Regenerative Agriculture
May 24, 2021
Josie Hart
, Associate Director of Farm Programs
At Chatfield Farms, as we come out of the worst of the pandemic, the darkest of stormy weeks and the muddiest spring I have seen – the sun finally beams across the verdant and windswept hills of Deer Creek Canyon and I feel optimistic. Over the years the CSA team has touched on many production models for our vegetable and flower crops, from sustainably grown to organic (though not certified), to low-till and now, finally, to regenerative. 
 
Regenerative agriculture seeks to address the bigger picture. It's not just a method for production or a strategy for management, but the entire ecosystem is involved with raising crops and managing the land. There is not one official definition for regenerative agriculture—yet—but we at Chatfield Farms and York Street are developing our own working definition of what this term means while it evolves globally. We have adopted several principals for how we want to address challenges we face in farming and with land management. These principals make up our moral compass as stewards of this land, and of course, start with the soil.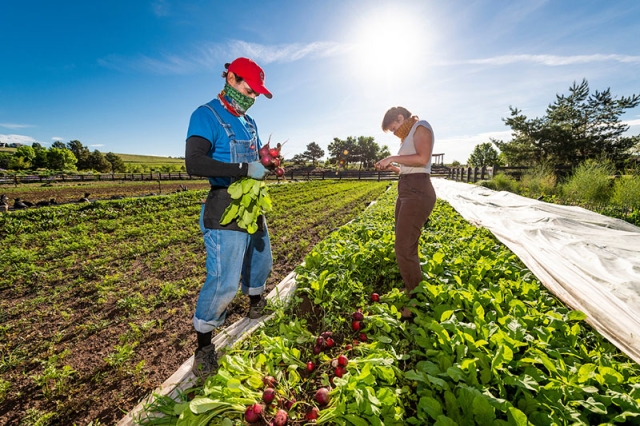 In the coming months we will be addressing these principals here on the blog, so we can share with you our journey to a more holistic, integrated form of farming that benefits the earth and its delicate systems.  
We seek to know more and explore/activate these main principals: 
Soil conservation (building the soil community, keeping it protected, enhancing fertility, conservation tillage, cover crops) 
Biodiversity of all living systems on the farm – plants, animals, soil, human 
Food sovereignty and security in local economies 
Resilient systems – for food production, for climate change, for drought resistant soils, for the farm workers 
Research – carbon sequestration, pest management, no-till, water conservation 
I hope you will join us on our journey to explore the true meaning of regenerative. What is your take on the term? Is this a passing marketing fad or will we be able to create resiliency for a stronger food system and ecosystem for us all to thrive in while giving back to the earth—so we can face climate change and food insecurity?  
 
Comments
Regenerative Agriculture
I've been studying and practicing RA principles for a couple of years now in my own gardens, both food and pollinator, and I have much less work to do now that the worms, fungi, bacteria et. al do most of the work for me. I make microbial teas for soil drenches and foliars (my airlift brewer sounds like the boiling mudpots at Yellowstone, which prompts puzzled looks from my neighbors), and the manure from my ducks has helped too. Adding animals to my gardening efforts has been like closing a loop that I didn't realize was broken. Anyway, glad to hear that (on the farm at least) you are ever-evolving toward more sustainable and Earth-friendly practices.
Add new comment