Unique plant treasure in Children's Garden
May 25, 2011
Panayoti Kelaidis
, Senior Curator & Director of Outreach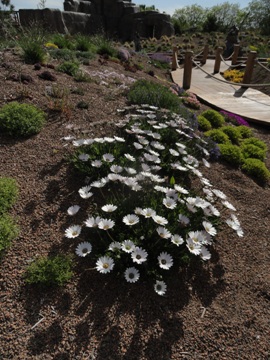 There's so much to see west of York Street at Denver Botanic Gardens visitors can almost be forgiven for missing out on the Children's Garden. WRONG! It's not just for kids!  Many of our best specimens of native plants are found there.  Because of the fresh soil and brisk breezes, many plants thrive here that are difficult to grow in the rest of the Gardens.. There are lots of AVALANCHE Sun Daisy (Osteospermum above) around the Gardens, but on the Alpine Garden section of the Children's garden it is already in full glorious bloom (elsewhere just budded)...This is this year's star entry in Plant Select: I am quite sure you've never seen this gem before! Bring sunglasses, however: the glare is awesome! I am astonished how well such a wide variety of plants have performed on this Green Roof: the horticulturalists who did the work are truly to be commended!
Phlox grayi (vivid pink individual)
There are some wonderful specimens of this phlox elsewhere at the gardens, but the colonies and masses of this rare phlox from Northern Arizona are simply breathtaking right now all over the Children's garden. It is fascinating to see how much each plant varies in flower color: this clone is especially a brilliant pink. This has to be one of our finest native plants for gardens. I can't think of another Public Garden in the world you'd be apt to see this plant, and certainly none with so many thriving specimens!
Penstemon eatonii
If I had not taken this picture myself, I'd think it had been shot at Moab or the Colorado National Monument where I have seen this penstemon looking just like this about this time of year. But no! It's in the Canyonlands section of our very own Children's Garden.
Oxytropis besseyi v. besseyi
I was really astonished to see many clumps of this rare native milkvetch blooming all over the North part of this garden. Most forms of O. besseyi are a screaming magenta in color. Yellow is a rather rare color for the Astragalus group, and a soft primrose yellow like this one is very unusual.  Now to go find this in nature...
The Childen's garden is brimming with color and wonderful vistas and vignettes. I make a point of visiting once a week: judging by all the giggling kids by the water feature, I'm not the only delighted visitor: make sure you come by soon and check it out. You won't regret it!