Trillions of trilliums...well. Sort of.
July 1, 2011
Panayoti Kelaidis
, Senior Curator & Director of Outreach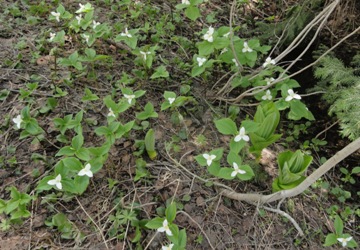 I'm sure that if you told the next fifty people you met that "there are trillium growing wild in Colorado", I'm sure not one in a hundred would believe it. The picture above was taken last weekend north of Steamboat. Oh, so many stories! I had camped in this area for the first time nearly half a century ago. A bear tried to get in our tent (we kept the bear prints for years on the outside of the tent.) I went back many times since then. Early in this decade a colossal wind knocked down tens of thousands of trees in the Zirkel Dome area. Spruce beetle populations skyrocketed, killing all the healthy trees, and subsequent fires wrought havoc as well: I wondered if our trillium survived there?
Western white trillium (Trillium ovatum) last weekend near Steamboat.
Many did! I could have spent days looking through the woods and tabulating trilliums. They are really quite common in the Montane and Subalpine forests of northern Routt county. As I peered from a distance at the remembered hills, I saw that much of the range of this plant is indeed changing: one of the hills near Slavonia which was filled with unusual treasures had burned just a few years ago... Unlike the eastern white trillium (T. grandiflorum) which looks so similar, this trillium grows in very cool areas, often blooming near snow. Not a plant to grow in gardens, but a treasure to find again in the wild.
Trillium with snow (Trillium ovatum)
Three leaf bitterroot (Lewisia triphylla)
 There are no end of special plants in Moffat and Routt counties: this looks very much like pygmy bitteroot (Lewisia pygmaea) only it comes from a bulb and grows at lower elevations.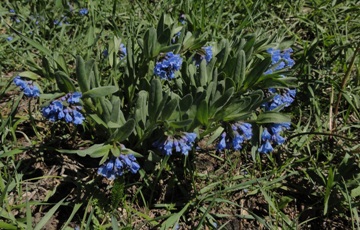 The only place in our state where you will find this miniature bluebell is in Northwest Colorado: the blue is piercing. What a cute miniature. We did not have time to seek out our native Rhododendron albiflorum: next time... It would take a good many blogs to do justice to our state. This weekend it will be Central Colorado, with some tundra time: maybe I'll bump into you? Have a fabulous Fourth of July!
Comments
Trillium alive and well on the way up to Lake Gilpin.
I was surprised and pleased to find and photograph the Western white Trillium on my hike up to Lake Gilpin 6-16-21. The area is beginning to recover nicely and the hike is one of the best I have had in years.
Add new comment