Textile and Tradition in Fervor
September 15, 2021
Exhibits Department
Combining a variety of media, Fervor is a layered sensory landscape dedicated to nature. Embroideries created in response to bird sounds float from the ceiling, mountainous tulle sculptures hold court in the central spaces of the galleries, and recorded poems and bird sounds play in the background.  
Nature, the use of historically feminine materials and the influence of tradition are firmly woven into Hernando's choice of color, material, and subject matter. Her works in part reference her childhood in Buenos Aries, Argentina, where she observed the women in her family sewing, crocheting and embroidering together.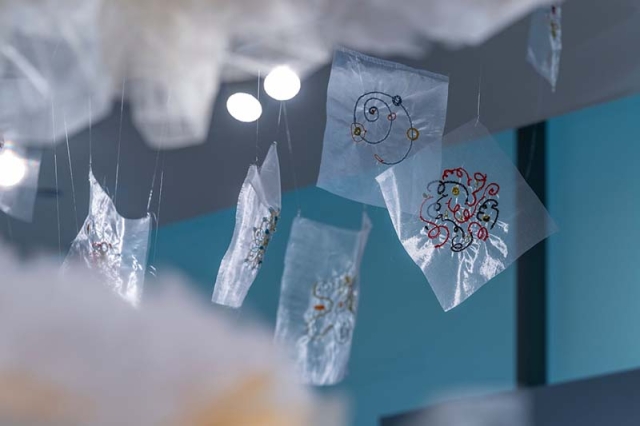 Ana María Hernando, Écoutons / We Listen / Escuchamos, cotton thread embroidery on organza.  
Hernando explains, "The things they made from fabric and thread were expressions of their spirit. All the beauty—the hours of work, the washing and ironing—was made invisible once the table was laid and stained with food. I explore the unacknowledged feminine force of work as a prayer that I have known my whole life." 
The work in Fervor combines this feminine energy with the habitat of birds and the spiritual vitality of nature. Ñusta de la hora sagrada/ Ñusta of the Holy Twilight represents a Ñusta, a powerful female spirit of the mountain in Andean mythology—invincible, eternal and unapologetically feminine.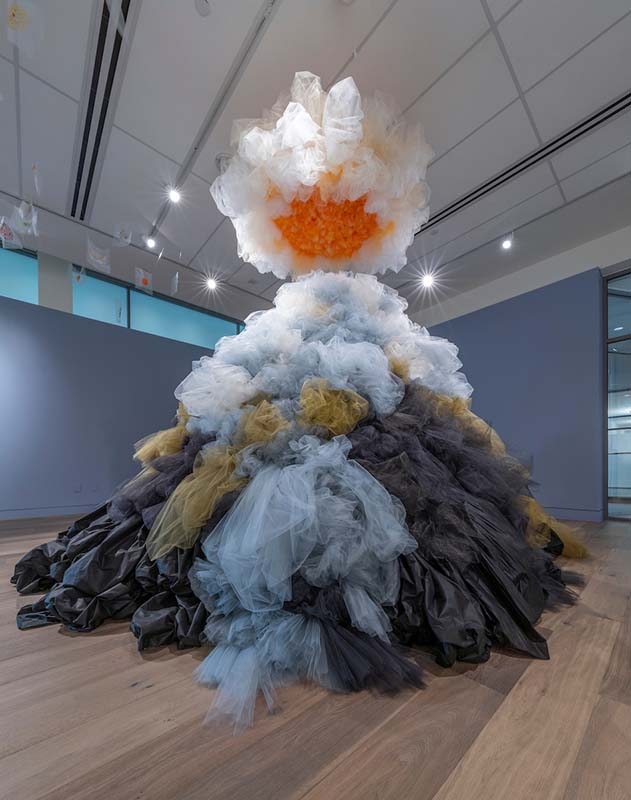 Ana María Hernando, Ñusta de la hora sagrada / Ñusta of the Holy Twilight, tulle, wood, and mixed media, 2021.
Evocative of a ballgown or other garments traditionally worn by women, this sculpture, and its companion in the adjacent gallery space, explodes into a flood of fabric—both feminine and delicate while also large and powerful. Hernando's installations are monuments to the irrepressible living energy of the natural world and the power and strength of women. 
Fervor is on display in the Freyer – Newman Center through January 2, 2022.
This exhibition is organized in collaboration with Robischon Gallery, Denver