Teambuilding at Chatfield Farms
June 13, 2022
Jeremiah Tjossem
, Private Events Facilities Technician
In the wake of the Great Resignation, building a strong company culture has become more important than ever. With an increase in working from home and hybrid schedules, it is increasingly vital to provide employees with a way to connect, engage and communicate. Enter teambuilding: your one-stop shop for facilitating and creating a healthy company culture. 
 At Chatfield Farms, the venue spaces on our native plant refuge are perfect to team-build or get away to reconnect with your team members. Through proper teambuilding outings, you can encourage your employees to reconnect, reengage and socialize to build a deeper connection with your company and their own teams.
The benefits to teambuilding are as numerous as they are helpful. Teambuilding events have been shown to increase morale, increase open and effective communication, encourage productivity and improve the mental health of your team members by providing them with a space and an event outside of their status quo. Through events and exercises you can work together to learn about each other and collaborate in a new environment. It can be easy to put teambuilding on the backburner, either because of the expense or the time investment required, but some of the most successful companies out there take full advantage and reap the benefits in the long run. 
We also offer suggested caterers, event planners and vendors to help facilitate your teambuilding event to save you the logistical headaches that can come with planning. Take a tour of our venues and be sure to ask about our suggested partners; we'll help you find a match for your needs.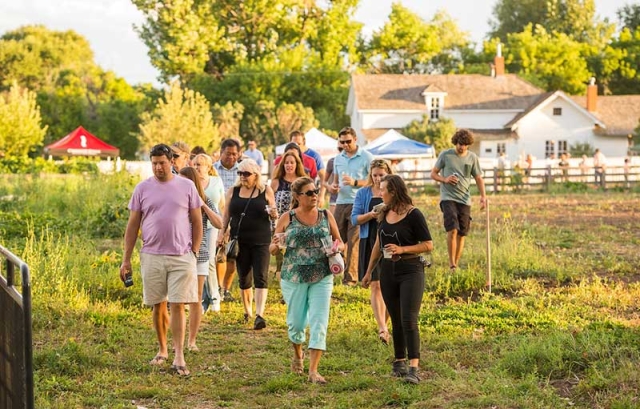 Want some ideas for your teambuilding event? Try a relaxing private yoga session with Denver Yoga Social, an herbaceous tea tasting with Organic Roots, an exciting teambuilding party with Interaction Denver or a casual evening with Biscuits and Berries Catering. Enjoy nature, break up routine and take a breath of fresh air. This is a chance for you and your team to reconnect with each other and your company, all on our private and secluded sprawling farm. Our 700 acres of property offer trails and garden paths for you to explore and venue spaces like our historical Green Farm Barn or our modern Deer Creek Stables. With both indoor and outdoor options, our spaces are COVID-19 conscious and can be catered to your needs. For a few hours or the entire evening, Chatfield Farms can be your private getaway.
Call 720-865-4339 today to book a tour with one of our venue sales associates who can show you the grounds and help bring your vision to life.