The Start of Something Big
March 30, 2022
Brian Vogt
, Chief Executive Officer
The next several months will be the start of something big; actually, several big somethings. The first comes in April when the beloved O'Fallon Perennial Walk is planted anew. Under the guidance of horticultural wizard Bridget Blomquist, a better story will be told about these perseverant plants that captivate visitors, revealed in waving tableaus that promise nine months of color. 
Then, this summer we tackle two major sustainability projects at York Street. First, every flat roof on our buildings will sport solar panels. These, combined with all-renewable electricity, will create a campus that is net zero except for natural gas-fueled boilers to heat critical buildings, such as the Boettcher Memorial Tropical Conservatory. The second project is the next phase in saving water. The Japanese Garden stream will be relined, and in coming years, we will reseal waterways and ponds throughout the Gardens.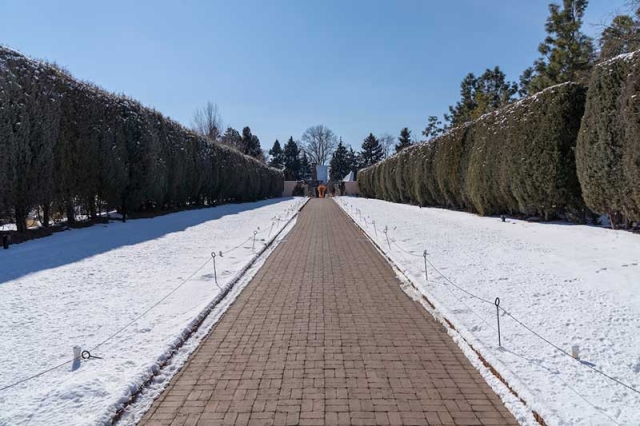 The O'Fallon Perennial Walk is being transformed.
Thanks to the people of the City and County of Denver, three existing gardens will undergo a makeover to provide better accessibility and horticultural integrity. The south end of June's PlantAsia will have improved pathways and transform into the Himalayan Garden, with dramatic black rock formations. Birds & Bees Walk will become accessible with Kathy's Boardwalk, named for past Board Chair Kathy Hodgson. Finally, South African Plaza, now that its collections are better represented in the Steppe Garden, will become Willow Plaza. These amazing plants are prolific in Colorado, and this opportunity will allow us to showcase them and their habitat.
The first projects in the new Chatfield Farms Master Development Plan will break ground (fingers crossed). Our plan is to focus first on core infrastructure – improved electrical service and sewer as well as a geothermal array to service several new facilities. Next up is a Welcome Center and the transformation of the asphalt parking lot in the core of the site into a multi-functional and beautiful Market Square. There are numerous projects that will follow with additional funding – an education center, restaurant, stage, butterfly house, restrooms and a boardwalk along the riparian zone.
The evolution of public gardens is grounded in the eternal quest for relevance to diverse audiences. To realize our mission is to bring more people to revel in the wonder of nature and the magic of plants.
The spring issue of Inside the Gardens is out now. Read it and other issues of the Gardens' magazine to learn more about Denver Botanic Gardens' efforts.