So I Want to Plant Some Bulbs – Help!
September 24, 2019
Special Events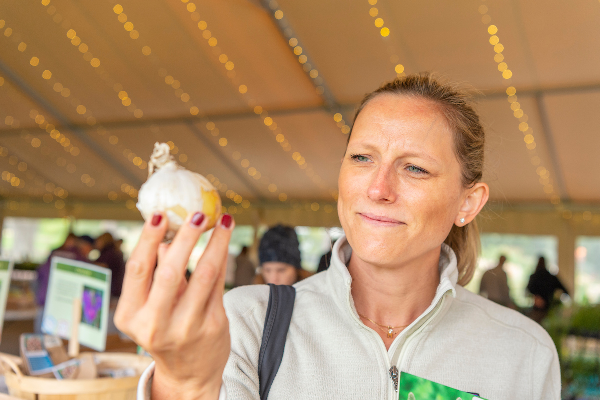 With the temperatures still soaring into the high 80s, it's hard to believe that it's already time to prepare our gardens for fall bulb planting. But, if a thriving bed of brilliant or pastel blooms is your goal for this spring, now is the time to begin! Our annual Fall Plant & Bulb Sale is the perfect place to shop for your bulbs, tubers and rhizomes.
Like any type of gardening, bulb planting can feel overwhelming if you've never done it before. Fortunately, we have a team of experts that can give you a leg up on making your flower beds the envy of the neighborhood.
Planning
Before buying your bulbs, consider the following:
Will you plant them in a shady or sunny location?
When do you want your flowers to bloom? In general, crocus, snowdrops, dwarf iris and Siberian squill are very early bloomers. Grape hyacinths, tulips, daffodils, fritillaria and common hyacinths come next. Alliums, bearded iris, Dutch iris and foxtail lilies bloom in late spring or early summer.
How much water will you give your bulbs? How often do you run your irrigation?
Do you want bulbs that come back year after year without replanting or will you want to change your bulb display, using different types and colors?
Do you have lots of squirrels in your area? Focus on planting bulbs that squirrels don't like to avoid them digging up and ruining your display.  
Purchasing
When buying bulbs, make sure they are firm and healthy looking. Some surface damage is okay as long it doesn't compromise the bulb's performance. At Fall Plant & Bulb Sale, our horticulture staff can assist you with making these evaluations.
Make sure you read the instructions on each bulb package to understand when they need to be planted, how deep and what sort of care they require.
If you aren't planting your bulbs immediately, be prepared to store them in a dry, dark place that is cool but not freezing. Bulbs should not be stored in a refrigerator where fruits and vegetables are also stored.
Planting
Amend your soil if needed to ensure good drainage, which is essential for all bulbs. 
For planting spring blooming bulbs in the Denver area, the best time to plant is October when the average soil temperature is about 55˚F. If you plant too early, the warmer soil temperatures may burn the flower already developing inside the bulb and it won't bloom.
For fall blooming bulbs, plant them immediately and they will bloom this fall.
In general, plant bulbs 3-4 times as deep as the height of the bulb with the tip facing up and the root zone facing down. Imagine 3-4 bulbs stacked on top of each other. Some bulbs are exceptions to this rule, so refer to the instructions for each bulb. If your soil has more clay, plant them a little shallower. If your soil is sandy, plant them a little deeper.
When planting lots of bulbs across a large area, dig the entire area to the desired depth. Then, place your bulbs as desired and fill back in with the soil you removed. This will go much faster than digging individual holes!
Water the bulbs very well after you plant them. This watering is important for the root formation that begins shortly after planting.
Fertilizer is not necessary with the initial planting. Bone meal for bulbs is not recommended in most Denver soils.
Post-Bloom
After the plants bloom in the spring, leave the foliage to die back on its own. By doing so, the bulb receives maximum energy through photosynthesis for next season's bloom.
To hide the fading foliage, plant summer-blooming annuals or perennials near the bulbs.
If you planted bulbs that naturalize, don't deadhead and let them go to seed so they will increase.
Stop by the Fall Plant & Bulb Sale this Friday and Saturday, Sept. 27 and 28, to pick up plants and bulbs for your own fall garden. Members receive 10 percent off all purchases! Free admission to the Plant & Bulb Sale and to the Gardens.