Snowdrop time...
February 9, 2013
Panayoti Kelaidis
, Senior Curator & Director of Outreach
It's snowdrop time again!  Surely, no plant is more intimately associated with winter flowering (okay, okay--Christmas roses may be!), and none have developed such an enthusiastic folowing: there are many specialty nurseries that sell dozens, even hundreds of kinds of snowdrops. Almost exactly a year ago I told the story of a snowdrop that fetched hundreds of dollars at Ebay auction. But truth be said, all snowdrops are precious this time of winter!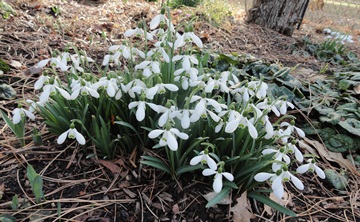 Galanthus elwesii at Denver Botanic Gardens
The plant that now constitute our most robust colony behind the Succulent House along the Cheesman gate were originally used as "fillers" in a lobby court display: I rescued them and planted a couple dozen bulbs some twenty years ago. Each bulb has proliferated and this is now beginning to make quite a spectacle. Starting up just now (go check it out!).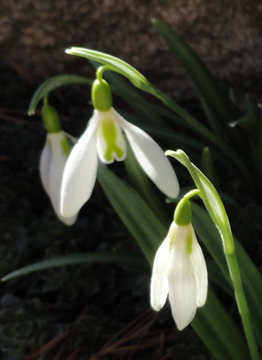 Here is a closeup of the commoner species that is abundant in the wild across much of Europe. I have grown this for over a half century at various homes--it spreads abundantly in Colorado as well--but believe me, this isn't a weed. You can always find homes for this plant. I remember this as a child in my parents home--just a few clumps here and there that spread to cover square yards by the time I was in college...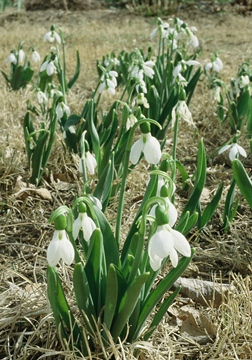 Here you can see now Sandy Snyder (who worked at Denver Botanic Gardens for 17 years in the 1980's and 1990's) has managed to naturalize one of the tougher sorts in her sparsely watered buffalo grass in sun! Generally, they are recommended for shady spots where they get periodic irrigation, but many species are Mediterranean littoral plants that grow in areas that have no water from April  to November. I suspect we could find sorts that would thrive with no supplemental irrigation. Three of many books recently published about Snowdrops: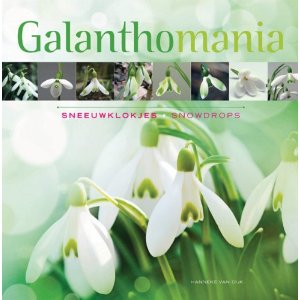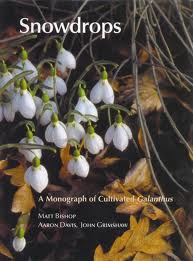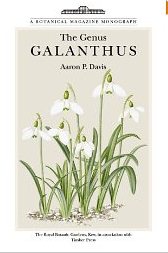 By the way, if you Google "snowdrop" you will find a host of novels, mysteries and other books named for these winter beauties--they are obviously popular--especially in Europe. By the way, all the snowdrop monographs have glowing reviews--and the prices are beginning to get astronomical--obviously the time to invest in snowdrop futures! Remember to order some for planting next fall (the plants of course--not the books).