Scientific Engagement in 2021
January 8, 2021
Brian Vogt
, Chief Executive Officer
There is no doubt that 2020 will go down as one of the roughest, most turbulent years in our history. It is a relief then that we take stock at the end of December and warmly look forward to better days as we flip the calendar. Of course, nothing but human civilizations work on calendars. Seasons maybe, but not calendars. We are left alone to wonder what 2021 will bring.
Imagine my disappointment when I searched around the internet to determine when exactly the Age of Aquarius would begin. There has been some social media buzz about it lately. I remember the song and it sounds pretty cool – peace will guide the planets and love will steer the stars – that type of thing. We could sure use some of that right now. But no one seems to agree on when this might ensue, nor, I suspect, how any of that works. The range of possible start dates spans about 800 years, with some special attention on the winter solstice just passed in 2020.
So instead, maybe we should focus on two critical human passions – the pursuit of scientific understanding and the messy job of holding society together.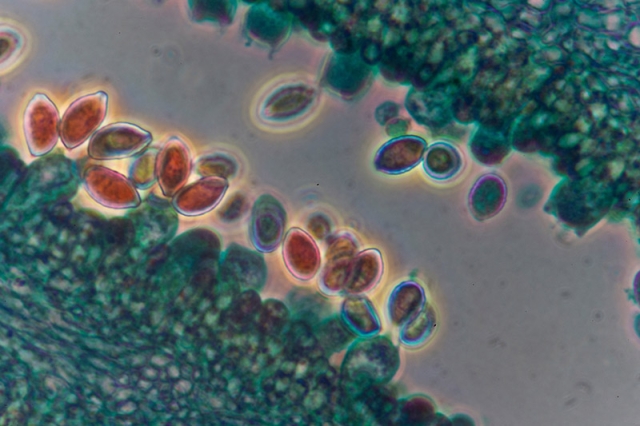 Spores on a prepared slide of Coprinus comatus.
If all goes well, by the time you are reading this, we will be well into the deployment of COVID-19 vaccinations. We are told the speed of creating this wave of vaccines was aided greatly by advancements in genomics and computers, many disciplines merging into a single focus.
The Gardens is taking a giant scientific leap this year when we will be able to fully utilize our new capacities thanks to the Freyer – Newman Center, including state-of-the-art labs and herbaria. Our team is ready to hit the trails again this summer doing field research in the southern Rocky Mountain region. We are also upping our engagement in three critical areas: soil health, water conservation and carbon capturing, and sustainable agriculture.
Regarding the messy job… The thought occurred to me a couple of months ago that the world would be a great deal calmer if it were all a botanic garden. Every day, I see the diversity of humanity wander through our grounds. They seem genuinely moved, happier
than when they arrived, and almost entirely kind-hearted. It could be the perspective gardens bring to us, or the wonder, perhaps a refreshing sense of grateful humility. Whatever the influences, let's take note of it. When we needed healing, some semblance of community and a little peace the most, public gardens were there for us.
Without a crystal ball, a defining astrological age or a soothsayer, let's decide that by our actions we will determine how to replace a no good, horrible year with one of promise and joy.
Onward.
The winter issue of Inside the Gardens is out now. Read it and other issues of the Gardens' magazine to learn more about Denver Botanic Gardens' efforts.