School's IN for Summer
April 26, 2022
Exhibits Department
Have you explored the first floor of the Freyer – Newman Center and noticed that two of the classrooms look a bit different than the others? Did you wonder just what those rooms were for or why there are so many things on the desks?
Good news! I'm here to help you solve the mystery! 
 
Classrooms 5 and 6, the Terriquez Family Classroom and Emery Family Classroom respectively, are used exclusively for classes offered through the School of Botanical Art & Illustration. 
The School of Botanical Art & Illustration offers a wide variety of art classes, primarily focused on the intersection between art and science. Students can choose from two tracks, the Botanical Illustration Program and the Art Exploration Program. 
Botanical illustration is the well-established tradition of portraying plants for scientific purposes. In our courses, you can learn the skills to render plants in remarkable scientific detail and the artistic techniques needed to create beautiful and lasting plant portraits.
Our Art Exploration offerings provide opportunities to explore a variety of mediums and techniques harnessing the inspiration of the natural world.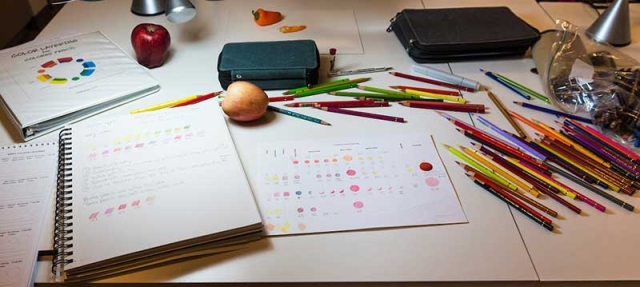 Creating art that scientifically documents plants requires specific tools and techniques, and the setup of our classrooms accommodates these needs. The multiple lamps on our classrooms' desks allow our students to explore light and shadow and to more clearly see the colors of their specimens and art works. Magnifiers make it possible to view fine details, which allows for more accurate portrayals of each subject. 
If you are interested in learning more about the School of Botanical Art & Illustration or registering for some classes, you can check out our current course catalog! 
 
This article was contributed by Kati Fay, Ph.D., program coordinator, School of Botanical Art & Illustration.