Salvia Mundi: 'Sage' advice for you
March 3, 2015
Panayoti Kelaidis
, Senior Curator & Director of Outreach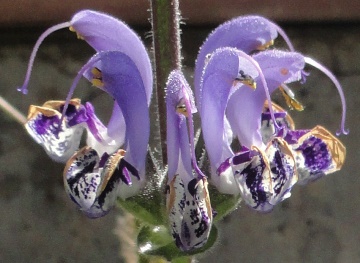 Salvia indica
The first salvia to bloom at Denver Botanic Gardens every spring is actually from Western Asia and Turkey rather than India as the name would imply. It shows one extreme of the range of form the genus can display. Now look below at a Western American gem: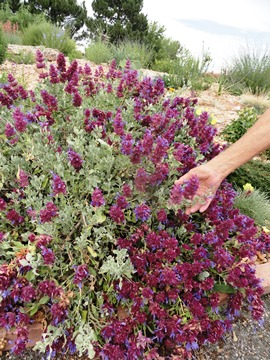 Salvia pachyphylla
Over the last few decades, a veritable flood of sages have become available commercially at local garden centers. Some, like this Mojave Sage (Salvia pachyphylla) thanks to Plant Select. Most are very xeric, and many bloom for months on end, starting in May. Since the genus Salvia may contain over a thousand species, and probably even more hybrids, no wonder some gardeners are frustrated at what to grow in their gardens.
Why not sign up for my upcoming class, Genus Salvia for Colorado Gardens. I originally prepared the precursor to this talk for a Symposium at Huntington Botanical Garden in 2014 and reworked for our local conditions. It represents my summation of growing over 100 kinds of salvia over the last few decades. There is a salvia for almost any condition in your garden, sunny or shady, wet or unwatered. Many salvias available through local garden centers are barely represented in books, and little known outside our region.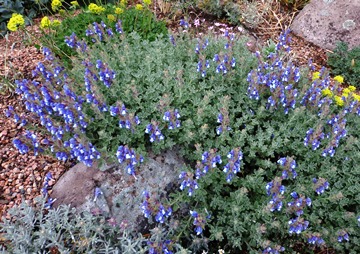 Salvia pisidica
This wonderful groundcover is a good example of an outstanding Xeriscape salvia from southeastern Turkey that was introduced to horticulture 30 years ago by Jim Archibald, but Denver is one of the few places where it's made itself at home! This has been offered at our plant sale for years, but few realize what a wonderful evergreen, xeric groundcover it is. This picture was taken in Mike Kintgen's private garden but fabulous spreads of this plants can also be found at the Denver Botanic Gardens in the Rock Alpine Garden and the Gardens at Kendrick Lake. There are many spectacular salvias from the Mediterranean and Asia that were introduced here at Denver Botanic Gardens, and these will be a focus of the talk.
  Salvia penstemonoides
Here is another spectacular salvia growing at Mike Bone's private garden which he has propagated at sold at our spring sales several years now. Thought to be extinct, the "Penstemon salvia" was rediscovered twenty years ago, and has been propagated and shared widely by plantsmen--and it has become a long-blooming spectacular plant for a xeriscape or dry border in Colorado.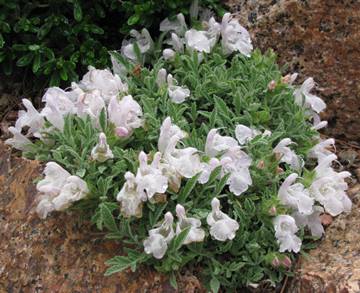 Salvia caespitosa
There are even tiny species like this one that you can grow in a rock garden or large trough. And there's a vast world of tropical salvias that make wonderful bedding plants and elements of the summer and autumn garden.
I believe there will be many more spectacular salvias showing up in our gardens in the next few years--and you can get a sneak preview on Wednesday night, March 11 here at the Gardens! Press here for registration details.