Rental Venue Spotlight: UMB Bank Amphitheater Tent
March 2, 2018
Special Events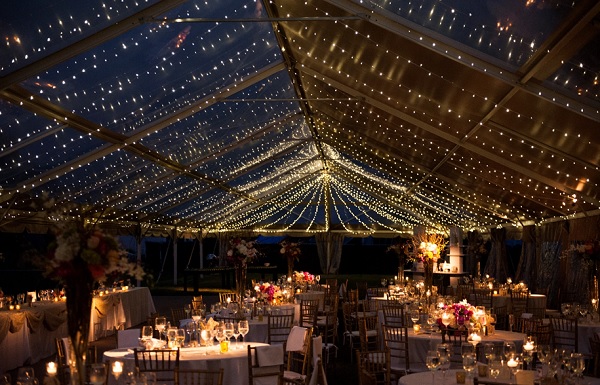 With over a dozen unique venue spaces, most of which can be booked in any season, Denver Botanic Gardens hosts hundreds of private events each year. Most of our venues are tucked in corners around our 23 acres, but one of the most versatile sits right at the heart of the Gardens: the UMB Bank Amphitheater Tent.
A vast canopy with a spacious interior, the UMB Bank Amphitheater Tent is our largest single rental space, offering endless flexibility for hosting a variety of events. It is a beautiful venue for daytime or nighttime events and features twinkle lights across the ceiling and open-air sides that can be opened or closed as needed.
The tent has the ability to host groups of different sizes ranging from a seated reception for 600 guests, a ceremony or graduation for 1,200 guests, or a cocktail reception for 1,200 people. Smaller-scale events can also use the tent for multiple functions; clients can easily host both a wedding ceremony and a reception under the tent without resetting any furnishings between them.
Guests can mingle during a cocktail hour or can enjoy al fresco dining surrounded by views of the Gardens in their peak. Add in acoustic music, delicious food prepared by one of our preferred caterers and your own decorative touch, and this space will transform your event into a truly breathtaking experience for your guests. Whether you are hosting a wedding, a corporate event, a non-profit fundraiser or gala, the UMB Bank Amphitheater may just be the venue you are looking for.
Contact our Private Events team for more information at private.events@botanicgardens.org or 720-865-3551.
Comments
Rent fee
Hello,
Please let me know your rental rates.
Thank you so much,
Chelsea B
Chelsea, we'd be happy to
Chelsea, we'd be happy to speak with you about our rates for the UMB Bank Amphitheater, or any other space you might be interested in! Please call us at 720-865-3551 or send us an email so we can learn a little more about the kind of event you have in mind!
JR Butler Company BBQ
We are looking for a location for our company BBQ this year. The event consists of Smokehouse BBQ hosting, a free raffle to our employees, ice cream table, volleyball and other yard games (possibly a bouncy house?). We would also play a little music through speakers but nothing crazy or loud. Headcount would be around 200.
Please let me know if this is all possible with you guys.
Thanks!
Company BBQ
Hi Jessica,
Thanks for reaching out to us. Our Chatfield Farms location in Littleton sounds perfect for your company BBQ! Plenty of room for all of your activities. Here is the 2019/2020 Private Event Intro Packet which includes photos of the rental sites and regulations. Please call us at 720-865-4339 or send us an email at chatfieldrentals@botanicgardens.org for more information.
Wedding
Hi there could I get more information on how to book a wedding?
Add new comment