In praise of bad trees...
December 12, 2010
Panayoti Kelaidis
, Senior Curator & Director of Outreach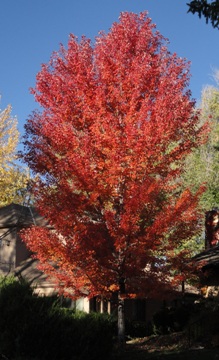 This past fall (as if overnight) a conflagration of spectacular red trees glowed for weeks all over Denver...friends and members of the Gardens would ask me what are those fabulous maples? They are very appropriately named 'Autumn Blaze', a hybrid of silver maple (Acer saccharinum) and red maple (Acer rubrum), combining the spectacular fall color of the latter with the adaptability and vigor of the first. With perhaps a little added hybrid vigor tossed in as well. Considering the plant was only introduced into cultivation in 1980, its ubiquity and abundance in cities across America is sobering. Tree experts are concerned that as these mature they are apt to develop the same breakage problems as the parents (possibly more due to rapid growth), and likewise share the sensitivity to alkaline soil that often turn both parents chlorotic in midsummer. Everyone wants a tree that grows super fast, forgetting that this often means the same tree can grow massive in short order, and is often prone to spectacular and expensive breakage. No one really knows how big 'Autumn Blaze' will grow in Colorado, nor really how brittle it will truly be in old age. Perhaps this is a plant best enjoyed in your neighbor's garden? What an amazing impact, however, the bright red has  all over our region, especially combined with the brilliant purple tones of 'Autumn Purple' ash (Fraxinus americana): they have done much to enrich the color palette of our predominately yellow fall color. The ash, however, also needs lots of water to do well and has a host of present and potential pest problems! Coloradoans like to think every tree is wonderful on our windy steppe. I caution friends to stick with tried and true trees in their own gardens. There is a whole list of Index expuragoria when it comes to some arborists: either they are excessively prone to disease and pests, or subject to breakage or too water demanding. I shall take a look at several of these naughty trees...but it is good to remember that if a tree may not be ideal in your garden, it doesn't mean that it would not be suitable in a park or other large site. I for one delight in the spectacle that 'Autumn Blaze' has brought to our city. But you will not see one in my garden!
Comments
Colorado Master Gardeners
Add new comment