Photography Expedition at Plains Conservation Center
November 2, 2017
Featured Instructor
Recently I led a photography expedition at the Plains Conservation Center in Aurora, a site with programs administered by Denver Botanic Gardens. Immediate questions come to mind: What and where is the Plains Conservation Center and why would you want to photograph something as plain as a plain?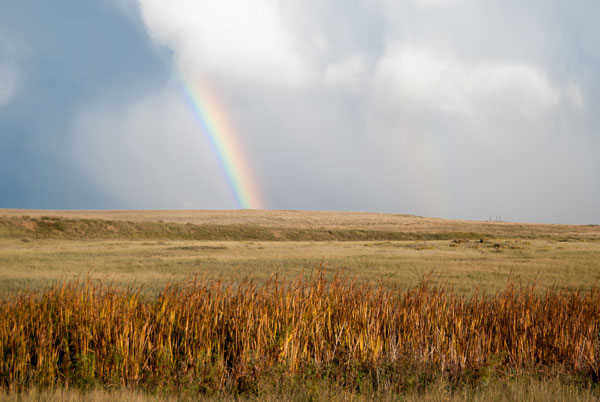 Those questions were on my mind as lead photographer when the idea was proposed to me and also by the six intrepid photographers who signed up for the expedition. Well, the answers came on the evening of the shoot. Our GPS devices got us to the most easterly end of Hampden Avenue and sure enough there before us was the plain.
Christy, our trusty guide, opened the gate and led us to a small cluster of buildings where educational classes about the plains are held. The impression was that the structures were tightly grouped in the corner of the property so as to not spoil the overall view of the expansive plain or prairie.
She loaded us onto a large open-air trailer with fixed bench seating which in turn is pulled by an SUV. She described the route which would take us over the low rolling hills and explained features we were about to see. Her report heightened our anticipation of what lay ahead because we could see that the atmosphere was adding up to an exceptional photography opportunity.
The weather was mixed all around us. There was a cool autumn breeze blowing. Heavy sky-to-ground rain clouds surrounded our view to the south and east. To the north and west the sunlight shown through scattered clouds. The combination made a brilliant rainbow in the direction we were headed.
As we bounced gently over dirt roads we came upon photography moments galore. The rainbow was one; prairie grasses and small shrubs glistened in the late afternoon light; two bald eagles flew from their perches in a leafless cottonwood tree to pursue a hawk; a pronghorn antelope appeared to pose on the crest of a hill then approached closely, attracted by the flash from one of the photographer's camera; native American teepees could be seen silhouetted against the sky and finally we came to a stop in a pioneer village.
The village is an accumulation of historically-focused reproductions set there for educational purposes. It was a perfect location to make our final photographs as the sun set in the west and the full moon rose through clouds in the east.
In full darkness, we unloaded from the wagon back where we had started, each one of us with a new appreciation for something called the Plains Conservation Center. Also at that point it was plain to us that the plain is far from being plain.
      This blog post was written by David Winter.
Gallery