The Mysterious History of the Jack-o'-Lantern
October 16, 2019
Special Events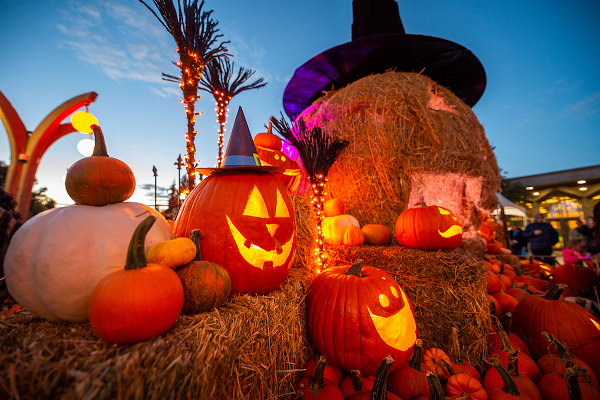 In just a few days, the Gardens will dress up for Halloween for Glow at the Gardens™, our nighttime celebration of all things pumpkin. Using all real pumpkins grown by local farmers, our team of pumpkin artists will create nearly a dozen larger-than-life pumpkin sculptures, hand-carved showpiece pumpkins, and of course, hundreds and hundreds of classic jack-o'-lanterns. While we love the elaborate sculptures, the classic jack-o'-lanterns hold a special place for us: after all, there is no symbol of Halloween more quintessential than the jack-o'-lantern!
But… why? Where did this tradition actually come from? Why do we all buy an over-sized gourd, carve one side into a scary face and plop it on the porch with a candle for all to see? The truth is that no one is really sure! The practice likely evolved from traditions stemming from a variety of cultures. There are, however, a few stories and themes that seem consistent from source to source.
Most agree that the word "jack-o'-lantern" developed in 1660s English folklore and was another name for a "will-o'-the-wisp": a phenomenon of faint lights appearing over bogs and wetlands that was commonly associated with magic and fairies. Variations of the will-o'-the-wisp story are present in folklore all over Europe.
It is also known that gourd and vegetable carving has been observed in numerous cultures for hundreds of years. The Irish seem like the most likely candidates for bringing the idea to the United States, as they are known to have carved turnips and beets into ghoulish faces representing goblins or spirits. In the United States, where pumpkins were readily available, the turnips and beets were no longer the ideal canvas.
Another legend is that of Stingy Jack, a blacksmith who managed to hoodwink the devil through a series of clever ruses into never claiming his soul. Upon his death, he was fated to linger on earth for all eternity and has only a burning coal to light his way, becoming known as "Jack of the Lantern."
Regardless of its origin, the jack-o'-lantern is easily one of the most important elements of American Halloween celebrations. Whether it's a single jack-o'-lantern on your stoop or a display of hundreds of spooky faces side by side at Glow at the Gardens, there's nothing like a hollowed-out pumpkin with a candle inside to evoke the nostalgia of trick-or-treating, costume contests, haunted houses and spooky October nights.
Join us Oct. 21-25, 2019 to celebrate the jack-o'-lantern in all its glory at Glow at the Gardens. Tickets are extremely limited and are expected to sell out in advance. Purchase tickets online or at the Bonfils-Stanton Visitor Center at 1007 York Street.
New this year! Stop by the Gardens York Street location on Saturday, Oct. 26, 9 a.m. – 2 p.m., to take home a jack-o'-lantern from the show for free, while supplies last! Gardens' membership or admission required for entry.