'Monarchs of Michoacan' Day 3: El Rosario Monarch Sanctuary
February 10, 2011
Sarada Krishnan
, Director of Horticulture & Center for Global Initiatives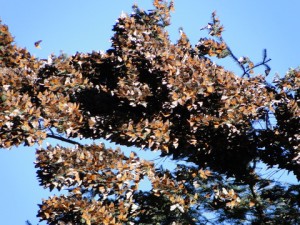 After visiting the Sierra Chincua Monarch Sanctuary, we spend the night at the village of Angangueo. A booming mining town at one time, Angangueo is located at an altitude of about 8,400 ft. Around this same time last year, this village was devastated by heavy rains and accompanying mud slides, which closed the whole village for several days causing economic hardship to the local folks dependent of tourists visiting Monarch butterfly sanctuaries. Remnants of the damage cause by the mudslide are still visible.
On this third day, we leave early to the El Rosario Monarch Butterfly Sanctuary, which is about an hour's drive from town. A major portion of the road to the sanctuary is unpaved and hence we are transported to the site on a pick-up truck. A major portion of the hike through the forest has paved steps, followed by well maintained dirt trails. Compared to Sierra Chincua, the forest in El Rosario has much denser understory vegetation dominated by plants in the Asteraceae and Lamiaceae families, all providing nectar for the active butterflies.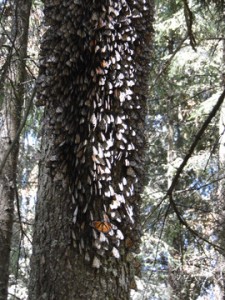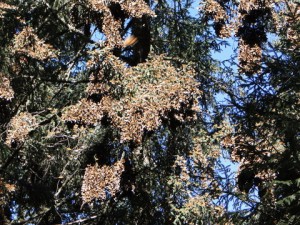 An hour's hike takes us to our destination where the Monarch butterflies are congregating, at an altitude of about 11,000 ft. The millions of hibernating butterflies are slowly waking up with the rise in temperature. Many trees are completely covered in butterflies, with many branches drooping down with the weight of the butterflies. These butterflies will soon be getting ready to start their migration back north in search of milkweed plants to lay their eggs. We see a few mating pairs. Before long, by early-mid March, all these butterflies will be gone, renewing their life cycle with a new generation. We spend an hour at the site just watching these butterflies and marveling at this remarkable natural phenomenon. After two incredible days of viewing the Monarch butterflies, we continue on with our trip and head towards Patzcuaro.