Love herbs? Add this book to your kitchen
August 17, 2022
Tiffany Coleman
, Marketing Manager
Denver Botanic Gardens Guild is an organization centered around herbs. The group staffs the Herbs Division at Spring Plant Sale, provides support in the York Street and Chatfield Farms herb gardens and harvests and dries herbs to use in Guild creations. Herb education and outreach are a large part of the Guild's mission.
The Guild's members craft numerous products that are sold in the Shop at the Gardens. Cat toys filled with a mixture of dried catnip and catmint engage the fussiest felines. Our dog biscuits are approved by canines across the country. Bakery goods and hot drinks are enhanced by the five sugars we create: orange chocolate, lemon, peppermint, lavender and rose petal. Complex herb vinegars fly off the shelf. The stock changes by season but includes the pale lavender chive blossom vinegar, the mellow orange mango ginger vinegar, the mahogany-colored Black Mission fig balsamic vinegar, golden tarragon vinegar, deep purple basil vinegar, the beloved Denver Botanic Gardens Guild Herbal Blend and many others.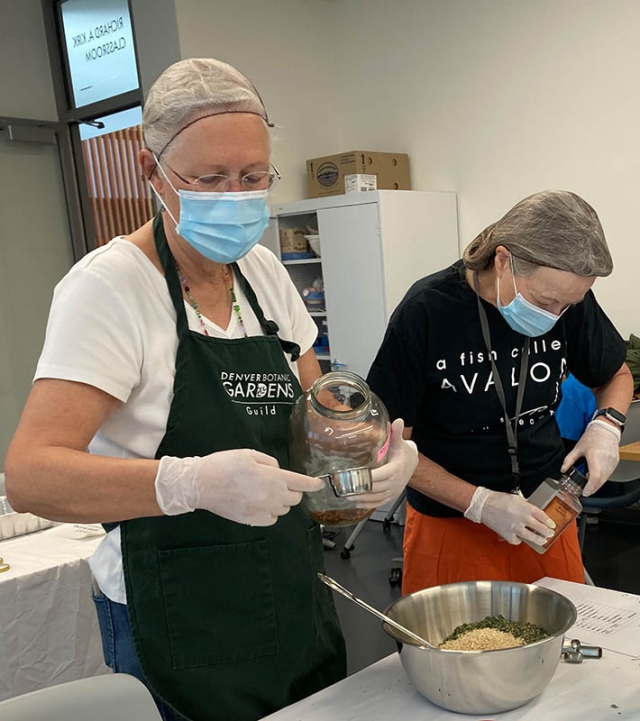 Guild members measure out ingredients for the popular blends.
The Guild also creates over 17 herb blends for every conceivable need from our unique Italian seasoning, salad blend herbs, poultry seasoning and lemon herb pepper to a sweet and smoky barbeque rub, Herbes de Provence, Born in Montreal, rosemary onion roasting herbs and the Original Guild Herb Salt. Lemon blends include multiple lemon herbs that grow well in our steppe climate. We recently started selling our pizza blend in grinders to add pizzaz to your latest pan pie creation.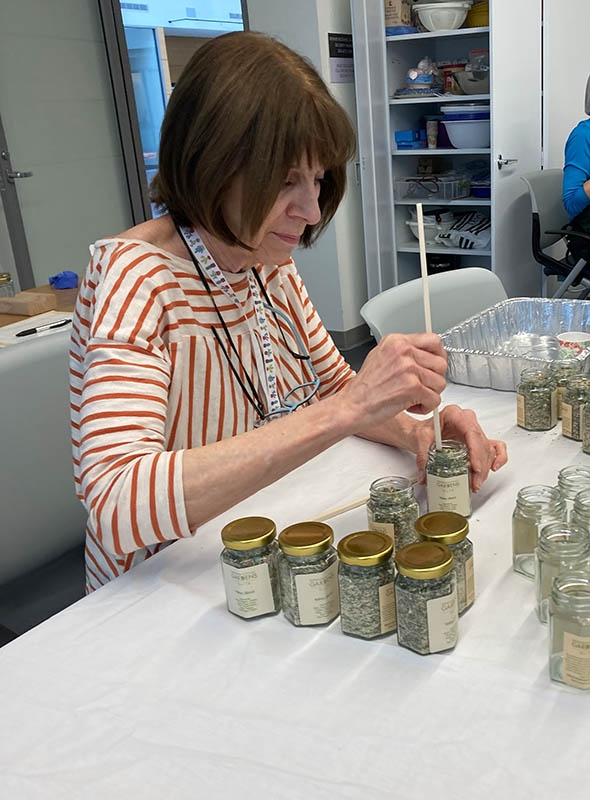 A Guild member fills jars with the herbs.
The purchase of our food products at the Shop in the Gardens includes a card of recipes. Many of our herb blends and vinegars are found in recipes within our recent cookbook, the "Herb Lover's Kitchen, Sage Advice and Favorite Recipes." 
The Guild makes an annual gift to Denver Botanic Gardens based on the sales of all Guild products.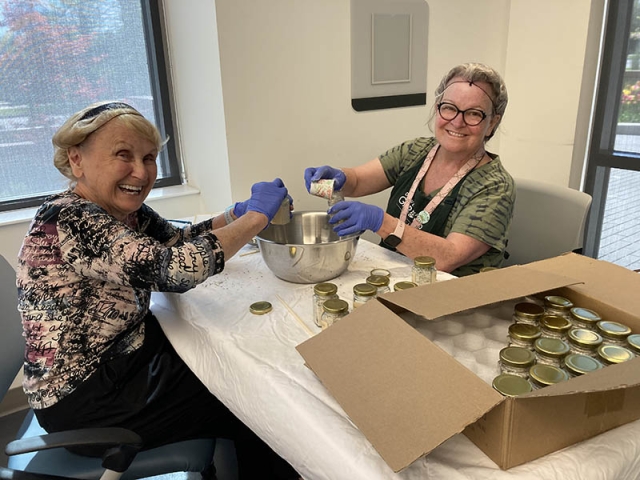 Guild members mixing herbs.
If you are interested in finding out more about joining Denver Botanic Gardens Guild, feel free to contact Vice President of Membership Chris Ross at Jcross1967@aol.com. 
This article was contributed by Cathy Begej, co-chair of the Cookbook Committee.