Looking Forward to Earth Day 2023
February 17, 2023
Annet Willigenburg
, Visitor Experience Associate
At Denver Botanic Gardens, we are already making plans for Earth Day on April 22. This is also an SCFD Free Day at the Gardens and we're going to have lots of things going on that day for you at both York Street and Chatfield Farms.
Sustainability is one of the Gardens' four core values, and we are continuously working on improving sustainable practices. For example:
Turf reduction and native plants
This spring, removal of the grass strips bordering York Street is on the agenda, to be replaced with plants that have low water needs but add loads of texture and color. Many of the plants in our collections are native plants that naturally thrive in Colorado, with less need for additional watering. The Gardens of the West collection are examples of these, as well as much of the Internationally Inspired Gardens collection.
Our cafes work with compostable tableware and aim to use local ingredients
As you may know, both Offshoots Café and the Hive Garden Bistro use disposable tableware (all cups, cutlery, plates) that is actually compostable! They also work with suppliers that source breads, cheese, meats, vegetables and bakery items as locally as possible. Additionally, we continuously seek to improve and increase our vegetarian and vegan menu options.
The Freyer – Newman Center is LEED Gold certified
Have you visited the Freyer – Newman Center? Opened in 2020, this addition to our grounds offers art galleries, an auditorium, updated classrooms and a new home for the herbaria and Helen Fowler Library. The building's LEED Gold certification means it upholds the highest sustainability standards in architecture. It features rainwater drainage into the north side, photovoltaic solar panels on the roof and moveable wooden panels under the glass ceiling to make the most of natural lighting and heating.  
Lots of local items in our gift shop
Like most people, we love a good souvenir—but the Shop at the Gardens tries to avoid plastic trinkets. Instead, the Shop features long-lasting sustainable gifts such as books, apparel, home decor, artworks and jewelry; many of which are handmade and local.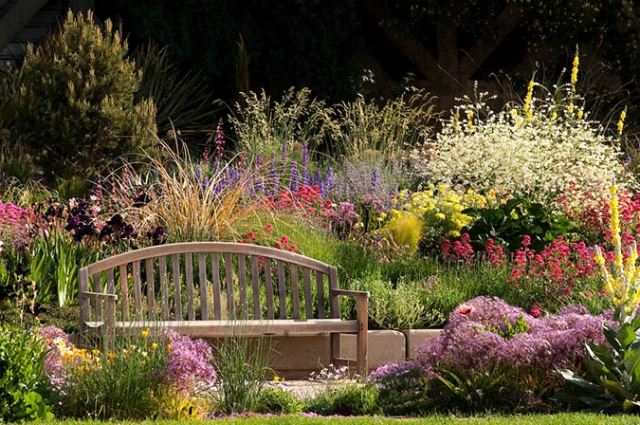 Roads Water-Smart Garden
Of course, there is always room for growth, but the Gardens keeps working toward being better and greener. 
What can YOU do this year to help reduce your impact on the planet? 
Consider lifestyle adjustments, small and large. Buy local produce, reconsider what you plant on your balcony or in your yard, choose greener transportation options, share tools and appliances with neighbors and shop second-hand.