Is it Spring Yet? Early bulbs and other Harbingers of spring starting in Rock Alpine Garden
March 12, 2010
Mike Kintgen
, Curator of Alpine Collections
While the official solar start of spring is still eight days away on March 20th, I think it is safe to say that spring has sprung in the Rock Alpine Garden. True, there may be many more snow storms and still plenty of mornings to scrape ice off of windshields, but the true harbingers of spring are in full glory now. Other gardens at Denver Botanic Gardens are showing signs of spring as well, but  few do it with such diversity as the Rock Alpine Garden (RAG).  Three species of Galanthus, at least five species of Crocus, three species of  Helleborus, Erica carnea, Draba aizoides,  Jasminum nudiflorum, Cyclamen, Scilla and Iris reticulata are just part of the parade that will change almost daily now that it is March. Crocus are one of the most famous flowers of spring but most of us think about or photograph them open in the sun, Monday's cloudy skies allowed me to photograph them closed up revealing the often highly patterned  or colorful reverse.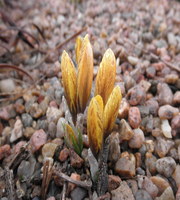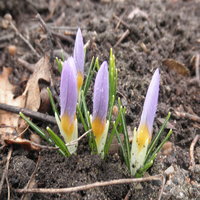 Above are Crocus korolkowii,  and a cultivar of Crocus sieberi.  Crocus chrysanthus 'Fuscotinctus' below is another favorite of mine when closed.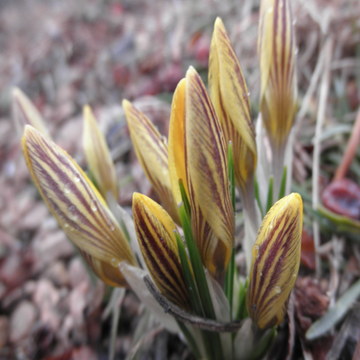 Hopefully these photos show a  different side of Crocus, or at least portrays them in a different light.  Moving on to another "Bulb" or corm is Cyclamen alpinum.  People are surprised to find out there are Cyclamen hardy in Denver, but 10 species are currently living in the Rock Alpine Garden.  I would say about five of these are very good performers, the others need a really special spot.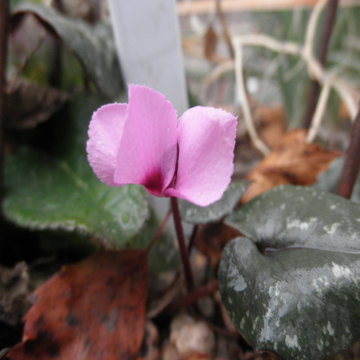 Cyclamen alpinum is always the first to open the Cyclamen season each year, followed shortly by Cyclamen coum.  This year C. alpinum is late, some years it starts as early as the beginning of February.  In addition to Cyclamen, more Helleborus are opening with the warmer weather.  Now Helleborus viridis has joined H. vesicarius and H. niger which has been going since November and was the only flower blooming on Christmas! Lastly I leave you with a photo of Jasminum nudiflorum.  Most people think of Jasmine as another tender genus but two species live in the rock garden.  Both are yellow and lack  the famous fragrance.  J. nudiflorum earns its keep by flowering in late winter often a few weeks before the Forsythia.