This past year I was the recipient of a Chanticleer Garden Scholarship awarded to professionals in Public Gardening, in my case to do a floristic and cultural comparison of two mountains in Greece and Turkey which have both been called Mount Olympus in past centuries. As often occurs, I encountered some wonderful things en route that are well worth sharing…in my case, a stopover in Reykjavik, Iceland on my way to Europe.
As a young man, I envied my friends who flew the old Icelandic Air and had stopovers on that island. The new Iceland Air has renewed this option, and I hopped on the chance to spend a day in the capital city. The airplane arrived about 6 a.m. Being June 27, it was bright as mid-day at that time! I had almost 18 hours (all in full daytime) to explore, and naturally, I went straight to the Botanical Garden which is a short bus ride from the downtown area.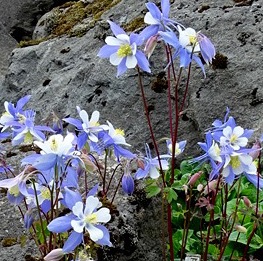 Needless to say, I felt right at home when one of the first plants to greet me was a superb specimen of Colorado Columbine in glorious peak bloom! The rock garden at this garden is situated right at the front gate, and it is perhaps their best garden feature—wonderful use of stones, and a mind-boggling collection of choice alpine plants, many of which I'd never seen before.
I have never seen the rare European yellow columbine (Aquilegia aurea) anywhere else in cultivation in any public or private garden, except for a brief appearance here in Denver several decades ago. Seeing this made me determined to find seed and grow it in Denver once again (see the gallery featuring images of all of these plants).
I was also deeply impressed by a wonderful spread of the golden saxifrage (Chrysoplenium tetrandrum) an unusual circumboreal alpine. I have seen this in a few gardens before, and I've found it growing wild in Kazakhstan. What galled me, however, finding this here was that this is one of the few native Colorado wildflowers that I've never seen growing in nature in Colorado, although it has been found several times just an hour or so drive from Denver proper (on Mount Evans for instance). And here I'm finding it first in a garden in Iceland. You can see why I was a tad jealous!
Few people would mistake this for a Saxifrage—this strange group of "rock breakers" are found mostly in the Himalayas where come in other colors and strange forms. I find this to be fascinating, and am determined to find it in one of its dozen or so Colorado locations in the summer of 2016.
Another old friend I never expected to find in Iceland was the miniature yellow ice plant—not the familiar D. nubigenum, but a more congested, high alpine species that is going about under various names. I now think the best name for it may be D. congestum, since it seems to most closely fit the description of that species.
This bloomed for us in Denver in April, ending in early May—so it speaks volumes about the climate in Reykjavik that it was still blooming there at the tail end of June.
One plant you will NOT find blooming at Denver Botanic Gardens is the blue poppy. They had many fine specimens of this famous and spectacular alpine at Reykjavik Botanic Garden.  We have coaxed a bloom or two on these in Denver, but they resent our summer heat. Iceland suits them to a "T" and they were nearly 4' tall, with glorious blue color. I believe this is Meconopsis grandis, or more likely a hybrid of it—this is one of the few specimens without conspicuous labels at this wonderful garden.
I should have expected to see a lot of willows—the genus Salix is especially diverse in cool, moist climates. I did not expect to see dozens of species, nor to see Salix lanata used as a hedge in the downtown shopping areas or along city streets!  The catkins were in perfect bloom during my visit!
This last shot captures something of the remarkable magic of the climate in Iceland: the weather is cool enough that tulips are still in full bloom at the end of June, but warm enough that South African bulbs like Crocosmia 'Lucifer' are thriving and blooming alongside the tulips.
There are many scenic and cultural wonders in Iceland as well…but I heartily recommend a visit to their gem of a public garden if you happen to take Iceland Air up on their stopover offer!