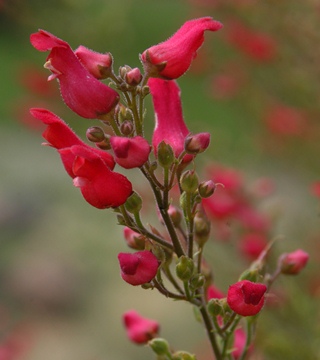 Anyone who has managed to grow "Red birds in a tree" knows that few plants are more attractive to hummingbirds. Scrophularia macrantha is a very local plant endemic largely to a few mountains in central New Mexico. The genus usually goes by the common name "Figwort" and gave its name to the Figwort Family--(Scrophulariaceae), which opens up another can of worms--let's leave that for another blog! But this plant is notable for several reasons: it is unquestionably the queen bee of its genus (Scrophularia is widespread in the old world, where most species are black or brown flowered--charming, I'm sure!). It makes a striking specimen in a border or wild garden--but stand back! It can grow six or more feet tall in gardens.
T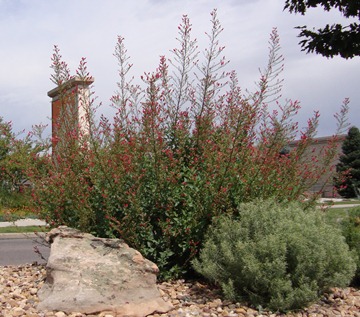 This monumental specimen is growing on Alameda, in Lakewood's amazing median strips that are filled with choice xeric plants. I nearly had an accident the first time I saw this growing here--such a rare plant, in the middle of a busy street! Lakewood can be proud indeed...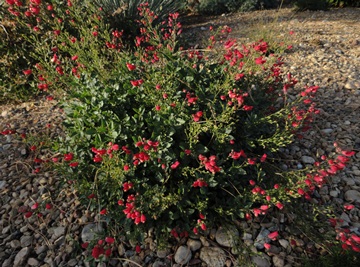 Here is a compact form that popped up a few years ago in the Lakewood Showcase garden on Hoyt and Jewel (the "Gardens at Kendrick Lake": if you have not been there, hightail it out there pronto: it is a stunning xeriscape demonstration garden that looks good at all times).
I collected a pinch of seed of this twenty years ago exactly this August at about 6000' in Luna County, New Mexico on an expedition with my brother-in-law, Allan Taylor to get seed off the northernmost Arizona Cypress in New Mexico. There was only one plant of the Scrophularia, and it was in seed: I sent a smidge to Kew and shared the rest with a few friends.
David Salman of High Country Gardens was the first to successfully grow and market the plant, and he gave it its wonderful common name. In 1998 it received the Green Thumb Award of the mail order nursery association. Ten years later it was promoted by Plant Select, and today nurseries across the world sell this plant, so rare in nature but treasured in gardens.
We have been finding hummingbirds in Denver area gardens all summer in recent years (they used to only pass through on the way to the mountains in spring and fall). More intriguingly, their numbers swell enormously in dry years like this year: I sometimes wonder if the vast array of red flowered, hummingbird-pollinated plants in Plant Select (a bevy of Salvia, penstemons galore, Agastache spp. and this Scrophularia) are not providing such a smorgasbord of delights for them that they find lingering down here attractive. I know that when flowers are sparse or absent in the hills, our gardens may be providing a vital food source for these miniature avian gems--a fascinating unintended consequence of our plant exploration. Pretty cool, no?