How to Attend the Summer Concert Series Like a Pro
July 23, 2018
Special Events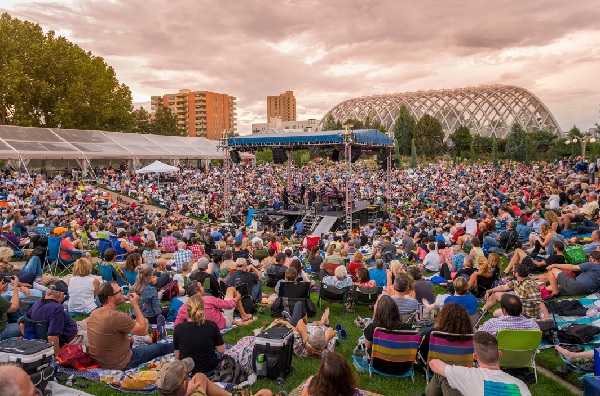 It's the peak of summer here at our York Street location, and we are heading into the busiest weeks of the annual Summer Concert Series. Even for seasoned Denver concert-goers, there's no venue in town quite like the Gardens. With somewhat unique restrictions on what you can bring, what you can't bring, and what your evening will look like, we want to share with you our best tips for ensuring your concert experience is a comfortable one.
BYOB Perhaps the most dramatic difference between the Gardens and other local concert venues is that we do not sell alcohol onsite. However, you are welcome to bring your own! You'll see concert-goers with coolers of beer, wine and other alcoholic beverages in their original containers. Of course, we always recommend drinking in moderation, and if you are arriving by car, make sure you designate a sober driver!
Bring short chairs, or just rent one of ours To provide a great viewing experience for all our guests, we do not permit any chairs taller than 26" inside the property. Alternately, if you don't want to mess with dragging your own chairs along, stop by the chair rental tent at Marnie's Plaza and rent one from us. Don't wait too long though – we usually sell out before the concert begins.
Want a prime seat? Get in line early. While the gates open between 5:45-6 p.m., guests who are eager for a prime seating location often line up hours earlier. While we think there isn't really a bad seat in the house, we suggest arriving early with a book or a knitting project if a front-and-center seat is what you have in mind.
Try Anna's Overlook for spacious seating On the other hand, if you'd rather not squash into the UMB Bank Amphitheater with hundreds of strangers, the grassy slope west of the Science Pyramid offers excellent sound and plenty of space to spread out. You may not see the performers, but you'll hear their serenades just fine.
Order a picnic dinner in advance Both Offshoots Café and the Hive Garden Bistro are open for dinner each concert evening. If you'd rather not wait for your food during the concert, pre-order a Picnic for 2! 
Dress for Success Our concerts go on rain or shine, so make sure you check the weather in advance. Ponchos, sunscreen, sunglasses, hats, blankets, sweaters, jackets – we usually see them all in the course of a concert season.
Take in your surroundings Feel free to wander the Gardens as you like throughout the concert. The Summer Concert Series is not just about incredible musical talent; it's about showcasing it in the spectacular setting of a horticultural wonderland. Many of our gardens are in peak bloom, and you may be lucky enough to catch a breathtaking sunset while you're here!
Comments
Shows and food
Just want to make sure I can bring my own food
Food at shows
Just want to make sure I can bring my own food
Food at concerts
Yes, you can! Here are some other questions and answers about the concerts:
https://www.botanicgardens.org/concert-faq
Doris
Add new comment