Horticultural Therapy Heals Hearts and Minds
December 1, 2011
Marisa Eisenstein
, Former Manager of Annual Giving
The following posts were created by dedicated and passionate volunteers and staff of Denver Botanic Gardens.  Please enjoy reading their personal stories and experiences about why the Gardens holds a special place in their hearts.
VICK'S PLANT TRIGGERS CHILDHOOD MEMORIES By Angie Andrade
As a horticultural therapist it is my job to use horticulture to stimulate minds and improve moods. Often times, this means bringing people back to the memories of their past using specific plants. Through our therapeutic horticulture programs we offer an opportunity for older people and those with disabilities to connect with plants. During these programs we visit a number of assisted living facilities that serve people with varying degrees of dementia. One of the plants that I always use is Plectranthus tomentosa, Vick's Plant. This plant gets its name from Vicks VaporRub because the scent of the leaves smells surprisingly like the medication. Who doesn't remember the days when your mom would rub Vick's on your chest to help you get over a winter cold? Or maybe it brings back memories of using Vick's to nurse your children back to health. We talk about these memories in each program.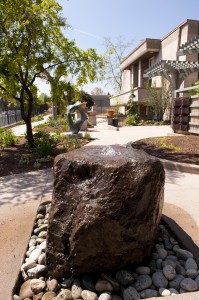 I have heard countless stories of people's past memories, and witnessed smiles and tears--all surrounding this plant. The power of horticulture is truly amazing and I feel lucky to be able to make these connections everyday. Located in the back of the Sensory Garden you will find a large boulder water feature in the middle of the pathway. This fountain was designed to allow people of all abilities to experience and touch the water flowing down the rock. During our Summer Sensory program many groups travel through the garden to experience all of the senses, but most people don't pay much attention to the water feature; then one day in late August, a daycare facility for people with developmental disabilities came to a program. This was a fun group. We had a great time planting herb gardens and talking about all the interesting plants. But there was one girl who was not interacting with anything we did until we made it to that fountain. She stood next to the rock, ran her fingers through the water, smiled and laughed long after the rest of her group had moved on. As I watched her enjoy the water I couldn't help but notice the staff members from the facility, which knew her very well, were beside themselves. They told me later that they never see her that engaged in anything. The Sensory Garden may seem just like any other garden, but it is a special place where everyone is encouraged to lose themselves in plants, memories or maybe a large rock water feature.
SENSORY GARDENS  DELIGHTS VISITORS By Jean Derr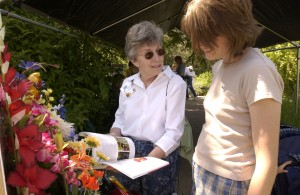 As a tour guide for people with disabilities, I delight in watching our guests get excited about smelling the basil and other herbs. Frequently, that will bring back memories of growing herbs or cooking spaghetti with basil. The Sensory Garden at Denver Botanic Gardens is a wonderful discovery. While it is designed to accommodate those with disabilities, it provides a delightful area to arouse everyone's senses. The garden is designed by a horticulture therapist to incorporate sight, sound, touch and smell. There is chocolate mint, pineapple sage, lambs ears, a vegetable garden, and other plants to learn about and enjoy. The Sensory Garden accommodates a wide variety of disabilities, including wheelchairs, walkers, and those with impaired vision. There are raised beds and hanging walls of plants, providing inspiration for any gardener.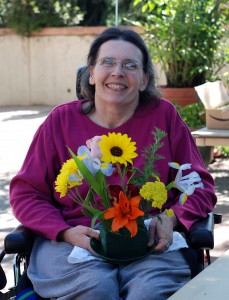 At the end of each tour with our disabled guests, there is a project to take with them. Flower arranging, potting herbs and planting topiary were this year's projects. While some of the men are reluctant to do the flower arranging, they produce a beautiful bouquet with a little encouragement. Watching the guests enjoy the tour and their smiles as they leave with their projects provides satisfaction and the desire to give more tours another day. There are times when I like to enjoy the garden on my own. There are always visitors strolling through the Sensory Garden enjoying the various unusual plants. They bend over to touch the soft lamb's ear or smell the pineapple sage and smile just like I do. Many say they didn't know you could mix the plants with the various senses into a beautiful garden. They leave with plans to incorporate those ideas into their own gardens.
PROUD TO BE PART OF THE GARDENS By Julia Sherry
What I love about Denver Botanic Gardens is the fact that it offers so much more than beautiful flowers. It is a place of rejuvenation and is deeply committed to serving our community.
Every Wednesday I volunteer to help out in the perennial gardens. One day while I was busy digging in the dirt, I noticed a group of soldiers in uniform bustling about, obviously having a good time. About an hour later, in a different part of the Gardens, I noticed more soldiers – still actively doing something, and still obviously having a good time.
I stopped one of them and asked what was going on. This strapping young man said to me, "We've just returned from being deployed in Iraq where we spent months stationed in the bleak desert. The botanic gardens arranged for us to have a scavenger hunt among all the flowers and green. It's a great welcome home." I was deeply moved that we could give back to these soldiers.
I know that Denver Botanic Gardens extends this kind of welcome to other groups as well – people with special needs, the infirmed, and nature-starved children. I couldn't be more proud to be part of such a wonderful organization.
Support the Gardens and programs that heal hearts and minds with your gift on Colorado Gives Day!  Learn more.