High Winds & Downpours & Heatwaves, Oh My!
August 31, 2018
Special Events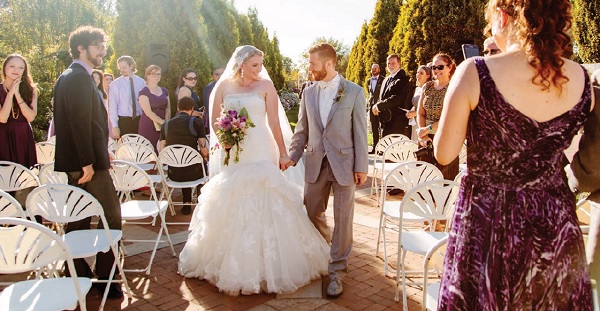 While Colorado is known for its seemingly endless sunshine, cool nights, and dry, breezy air, those of us who live here know that the weather can vary greatly from morning to evening, or even hour to hour, on any day of the year. Since many of our clients book their weddings in our beautiful outdoor spaces 12-18 months in advance, they never know what Mother Nature is going to provide for their big day! Fortunately, with a spirit of adventure, a bit of flexibility and a little advance planning, there are ways to work around our wild Colorado weather.
As you begin to plan the timeline of your ceremony, cocktail hour and reception, it's important to think about how rain or bad weather might affect the flow of your event. For example, if it is raining before your ceremony, do you have enough cushion in the timeline that you can delay? How long of a delay is acceptable before you have to either proceed in the rain or find an indoor option?
Another option we've seen couples choose on bad weather days is to rearrange the event to allow weather to pass. Is it possible to move your cocktail hour up to buy some time before the ceremony? This way, your guests can mix and mingle before the ceremony, and no one feels like they are waiting around.
Don't just think about the rain! Summer days in Denver can swelter into the 90s on many afternoons, and our high-altitude sunshine will crisp up your guests in no time at all. Can you provide fans or a bit of shade while your guests are waiting for the ceremony to begin? Would they appreciate a mini bottle of water during lengthy ceremonies? If you plan to be outside for a long time, suggest sunscreen and sunglasses in your invitation so guests don't take home a sunburn as a souvenir from your wedding.
The possibility of less than perfect weather is an inherent risk for any outdoor event, especially if your date is during monsoon season or a shoulder season where cold snaps are still a very real possibility. No one wants to plan for the worst: but we assure you, if you take some time early in the planning process to think about what the weather may throw at you, you'll thank yourselves later when you don't have to come up with a plan on the spot.
Our Venue Sales team is happy to talk through potential weather back-ups with you as you plan your big day at the Gardens. To set up a tour appointment, contact us at private.events@botanicgardens.org or call 720-865-3551.
Photo courtesy of Newell Jones + Jones Photography