Good Gourd Design – The Art of Glow at the Gardens
October 13, 2017
Special Events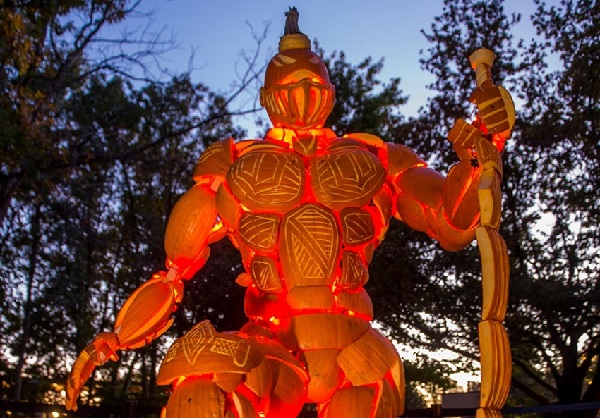 Today, the first batch of pumpkins arrived on site for Glow at the Gardens™. Our pumpkin carving team will spend the first half of next week cleaning, gutting and carving hundreds of giant gourds to create our one-of-a-kind pumpkin sculptures. And while all this carving is a challenge in such a short time, the harder part is actually coming up with the designs in the first place.
Know Your Canvas Each year, we brainstorm dozens of ideas for sculpture designs. The possibilities seem endless! However, we've learned that certain kinds of designs may sound great at first, but they don't necessarily render well when carved into pumpkins. What will the pumpkins look like in the dark, with only the carved portions visible? Will the design require a level of detail that will be too time-consuming and challenging for our carvers to achieve? Is the design one that will look good when pieced together across multiple pumpkins rather than on a single canvas? If you've ever struggled with a design for one jack-o-lantern, imagine sculpting 50-60 together to create a unified image!
Unpredictable Colorado Weather If we know anything about Colorado in October, it's that the weather is highly unpredictable. As you probably know if you've left a jack-o-lantern on the porch during an October snowstorm, pumpkins don't fare so well when it's cold. They also don't like unseasonably hot weather. With this in mind, we've worked to think about designs that will allow us to wrap or move pumpkin sculpture to protect them from the elements.
Structure & Safety Because real pumpkins are far heavier than foam ones, we carefully think through the structural integrity of the armatures that form the base of each sculpture. The last thing we want to see is a sculpture with pumpkins tumbling off of it!
Lighting & Props Lighting our pumpkins is almost as important as carving them. Inside lighting, outside lighting, accent lighting, and non-pumpkin props all add to the sculpture and help our audience interpret them. This year, we're even adding sound effects to a couple of the designs!
We're looking forward to seeing the pumpkin sculpture designs for this year's Glow at the Gardens finally come to life, and we hope you'll join us to see them too!
Tickets are limited and a sellout is anticipated. Purchase tickets online or at the Bonfils-Stanton Visitor Center.
Glow at the Gardens Gallery