The final (plastic) straw!
July 25, 2018
Jennifer Riley-Chetwynd
, Director of Marketing & Social Responsibility
Plastic straws are OUT! As an article in the Denver Post recently illustrated, Colorado restaurants are joining a national and even international trend to replace single-use plastic straws with either compostable and/or paper straws. The Gardens' Offshoots Café and Hive Bistro at the York Street location recently swapped out plastic straws in favor of biodegradable ones, expanding their list of compostables to include all cups, plates, cutlery and paper products.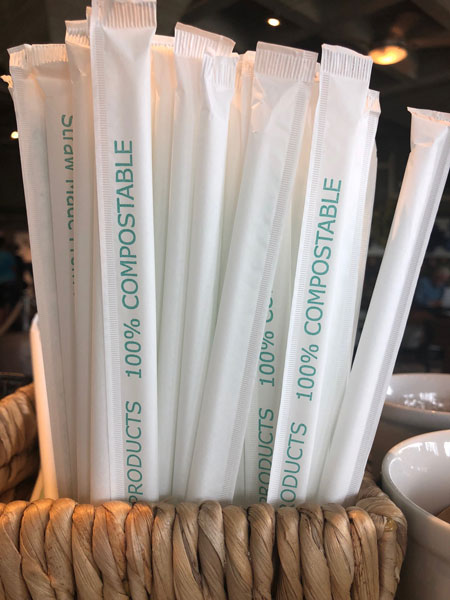 Not only do plastic straws not decompose in landfills, but they are likely to find their way into streams and rivers, eventually contributing to the growing problem of plastic contamination on beaches and in oceans. In an effort to address the issue, Seattle became the first U.S. city to ban plastic straws (on July 1) and its homegrown café chain Starbucks recently announced it will eliminate all plastic straws by 2020.
Closer to home, the Gardens is working with concessioner Catering by Design on this and other initiatives to make "green" dining the norm – for example, in May the Gardens stopped selling bottled water.  
So where do the compostable straws end up? The Gardens has a three-bin waste system at York Street to facilitate recycling and composting. Onsite diversion of plant material, food and other biodegradable waste generates several tons of compost that can then be used as a soil amendment – in our own gardens and elsewhere.