Denver's really secret garden....shhhhh!
March 22, 2011
Panayoti Kelaidis
, Senior Curator & Director of Outreach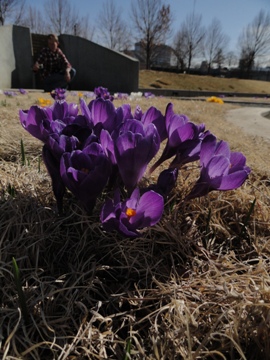 Nearly ten years ago the seeds for a remarkable garden were planted when Wellington and Wilma Webb visited Versailles. They wanted a dramatic garden near the entrance of the city instead of the industrial wasteland of the Platte Valley. Centennial Park [located at the northeast side of Elitch Gardens, just off 15th and Little Raven] was created as a fulfillment of the Webb's dream, and I was one of the team from Denver Botanic Gardens who helped design and create this garden.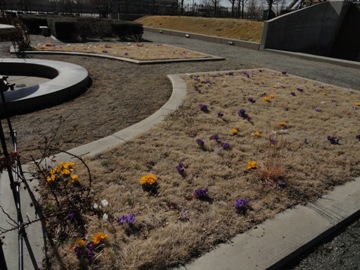 The clock fast forwards a decade: Denver Botanic Gardens is no longer involved with the maintenance or planning here. But I believe Centennial has more than achieved its dream. There are incredible hedges of native shrubs that only need to be trimmed once a year since they are kept dry and do not flush repeatedly as privet would do. There are masses of perennials in season, and some novel plantings unlike anything else in the City.  I am especially amazed to see how beautiful the buffalo grass (Buchloe dactyloides) has performed.  It is trim and neat year 'round, and never more beautiful than right now filled with these robust spring crocuses. There are autumn crocuses in it as well in September and October. I can't tell you how good these looked! Imagine in a few years when they seed around!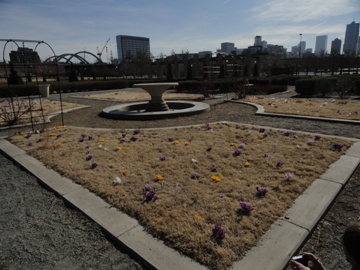 Every collaboration I have had with Denver Parks and Recreation over the years has impressed me with the dedication, diligence and intelligence this department brings to the table (and to the landscape). I do not think we as Denver area citizens sufficiently appreciate the work of our public servants--especially parks workers. I want to congratulate Denver Parks and Recreation who have done a terrific job in keeping it trim and looking good despite the enormous budget challenges they face, and the problematical nature of this garden and its setting. I hope this will not be a secret garden for long!