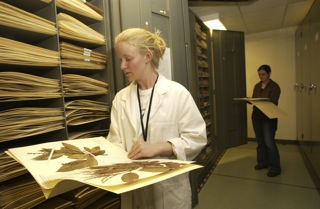 Did you know that Denver Botanic Gardens is a museum accredited by the American Association of Museums?  We are proud to announce the addition of an ethnobotanical herbarium to the list of official museum collections at the Gardens.  The other collections are:
The Library (botanical, including rare books)
The art collection
The living collections: Cactus and Succulents, Alpine, Native Plants, Aquatic Plants, Steppe Climate Plants, Tropicals and Amenity
The Sam Mitchel Herbarium of Fungi
The Kathryn Kalmbach Herbarium (plants)
The 12th collection, the Ethnobotany Collection, documents those plants that are being used or have been used in the past by humans in our region.  These include medicinals, plants used for spiritual purposes, plants used to track the seasons, aphrodisiacs and others.  There are three main components of the collection: The Market Collection (specimens purchased at Botanicas and other Native and Hispanic markets), Colorado Native Plants (species that grow in our region that are used by people), and Plants Used by Native Americans.  The collection will be a resource to educators, Gardens staff, researchers, and the interested general public. This newest collection is made possible by the donations and expertise of Dr. Don Hazlett, Gardens Adjunct Researcher, who has volunteered many hours compiling and curating the collection.  He has been aided by Virginia Till, another valuable Gardens volunteer with particular interest in ethnobotany. "We are very fortunate to have Dr. Hazlett doing this work" says Dina Clark, Curator of the Kathryn Kalmbach Herbarium who made the presentation of the proposal to the board last week, "The Ethnobotany Collection is a real asset to Denver Botanic Gardens that supports each of our core values of sustainability, diversity, relevance and transformation." 
This blog post was written by Anna Sher, Ph.D., adjunct researcher and former director of the Research & Conservation Department at Denver Botanic Gardens.