Christmas red year 'round!
December 8, 2012
Panayoti Kelaidis
, Senior Curator & Director of Outreach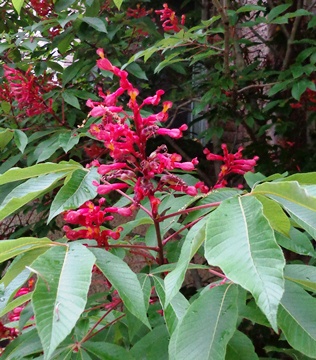 You have to be a real Scrooge not to love Poinsettia this time of year (and it's OK to say "Poinsetta" in my opinion!)...that RED--it's a red even redder than Santa's suit when Mrs. Claus brings it back fresh from the Dry Cleaners! But do we have to wait for Christmas for that brilliant red color? No,Virginia! There ARE hardy plants that can rival and even MATCH that pure vermilion, blood, incarnadine, crimson red of Christmas! I've been labeling images from the past year, and set aside a few of the reddest for your consideration, beginning with the wonderful (and rarely seen) red buckeye from the Eastern United States that thrives at Waring House at Denver Botanic Gardens...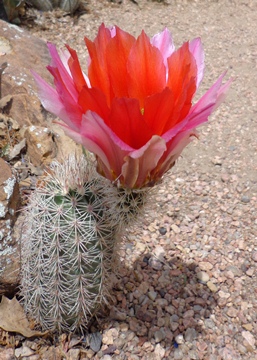 OK..it's not as red as that--I suppose any one of the dozens of forms of our native Claret Cup cactus (Echinocereus triglochidiatus) would out Christmas this one, but I couldn't resist showing this amazing watermelon red hybrid cactus I stumbled on in Dryland Mesa...not literally--I happened on it. It would not be good to stumble on this...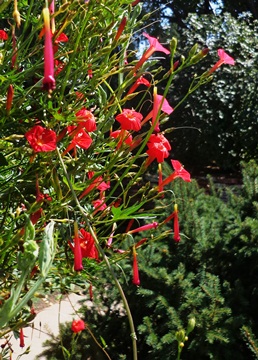 For the last few years Sonya Anderson has grown this breathtaking native vine on the pergola of Bird's and Bees: I like it almost as much as the hummingbirds I've seen hovering around it...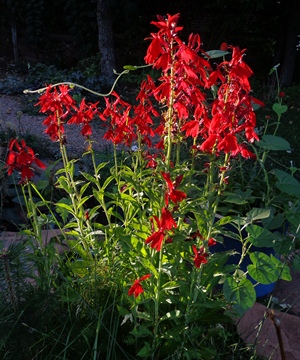 This scorching red Cardinal Flower has grown in the bog alongside the pool in my waterfall area at my home garden. One morning this past August I came to the kitchen window and looked down as a sunbeam lit just that plant up while my garden was in penumbra: the light lasted long enough to capture this image: I love days like that!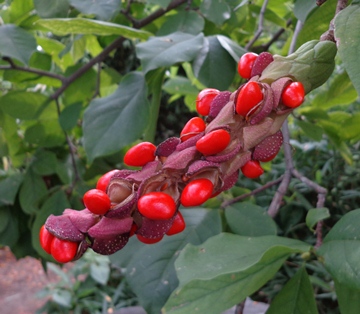 I like Magnolia seeds ALMOST as much as I love their velvety white or pink, silky, succulent, gigantic flowers. Come to think of it--how can you compare anything to a Magnolia flower? It's too wonderful for words: I suspect even the dinosaurs marveled at these (magnolias are among the few dicots we know for sure were around for the world's last lumbering giants that had their day in the sun: if we don't do something about global warming soon, we may be joining those giants...but I drift...).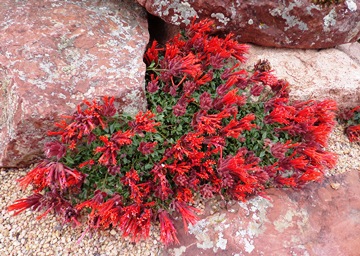 I tell this full story of this miraculous plant on another blog: it continues to be one of the most asked about plants in our collections of tens of thousands. Plant Select is seriously considering adding this to their roster--we obtained it from Suncrest Nursery, possibly the greatest wholesale nursery in America today. We are observing many other outstanding plants that have come from a recent trip out there whence we brought back hundreds of plants for DBG and our Spring Plant Sale!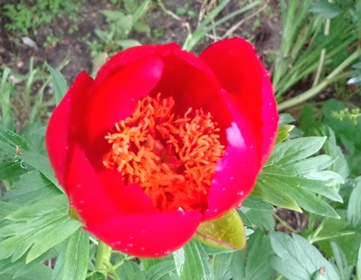 Many peonies approach Christmas red in color--but the prize winner has to be this species from the Balkans: Paeonia peregrina blooms almost a month before the gian, floppy hybrids. It seems to grow in sun or shade and almost any condition we've tried it in. The species bloom not only earlier, but rather briefer than hybrids, but their seedpods are usually much more prominent: see below...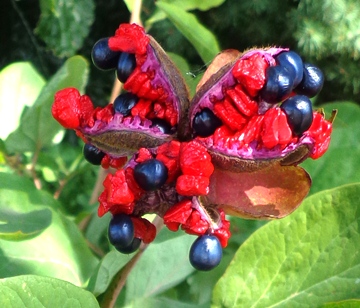 Although this a seedpod on "Molly the Witch", it could be almost any wild peony. The spectacular contrast of black viable seed and red aborted seeds makes for quite a spectacle for a very long time (compensating somewhat for their evanescent bloom period)...Those red unviable seeds make for quite a Christmas splash in summer, however!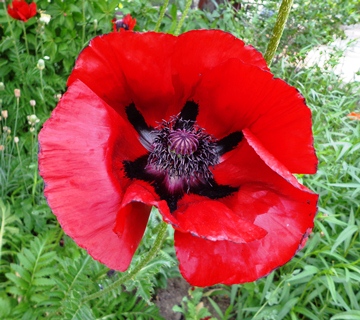 Quite a few plants go under the name "Papaver orientale"--especially a crepe-textured orange-juice colored alley weed that spreads at the root. 'Beauty of Livermere' is well behaved, and very tall with these amazing deep red flowers. A must have in my book!
Kelly Grummons, of Timberline Gardens, hybridized this amazing penstemon that was star performer this spring and early summer at the Gardens on Kendrick Lake. I think it may be the most beautiful hardy penstemon ever--I have a few clumps in my garden I hope will perform even half as well as they do at that magnificent Lakewood Garden...we do not currently have this at DBG: colleagues--hop to it!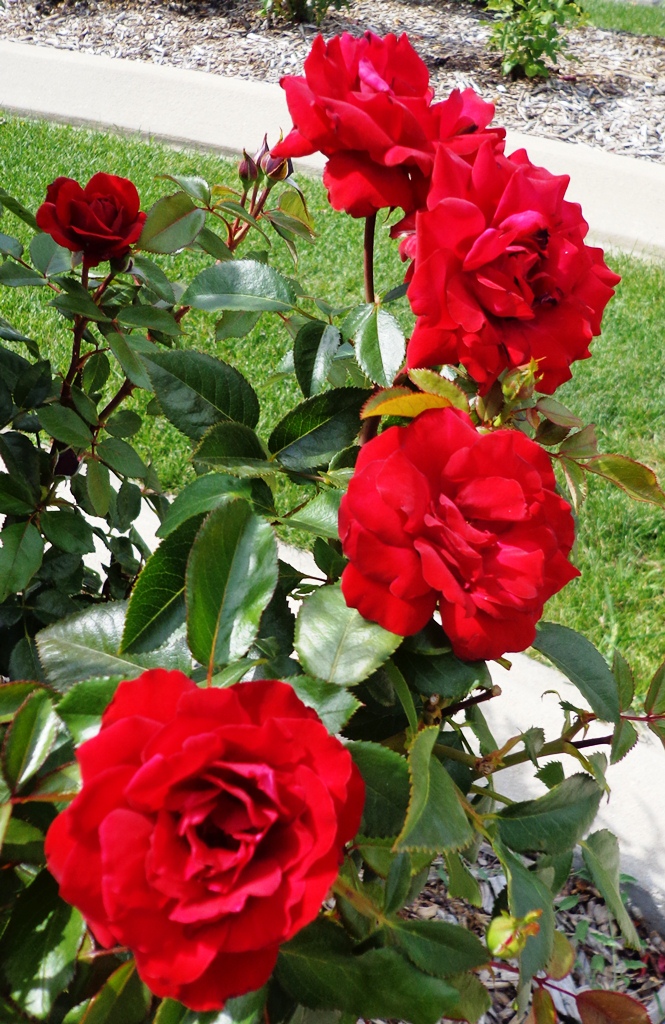 It would hardly do to list red flowered plants and pass over roses: I was especially taken with this one last summer when I finally visited the remarkable Rose Garden in downtown Longmont (possibly the best rose garden in the state right now.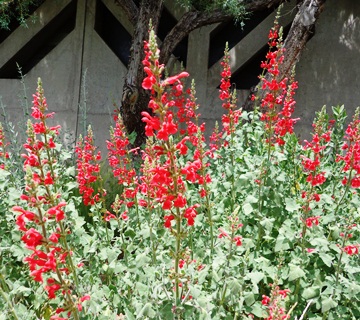 There are dozens of spectacular red salvias, but my favorite is probably this wonderful Plant Select choice: Salvia darcyi is from Northern Mexico, but has surprised us by proving hardy in more and more parts of the state. It produces those amazing spikes of bloom from May to autumn frost...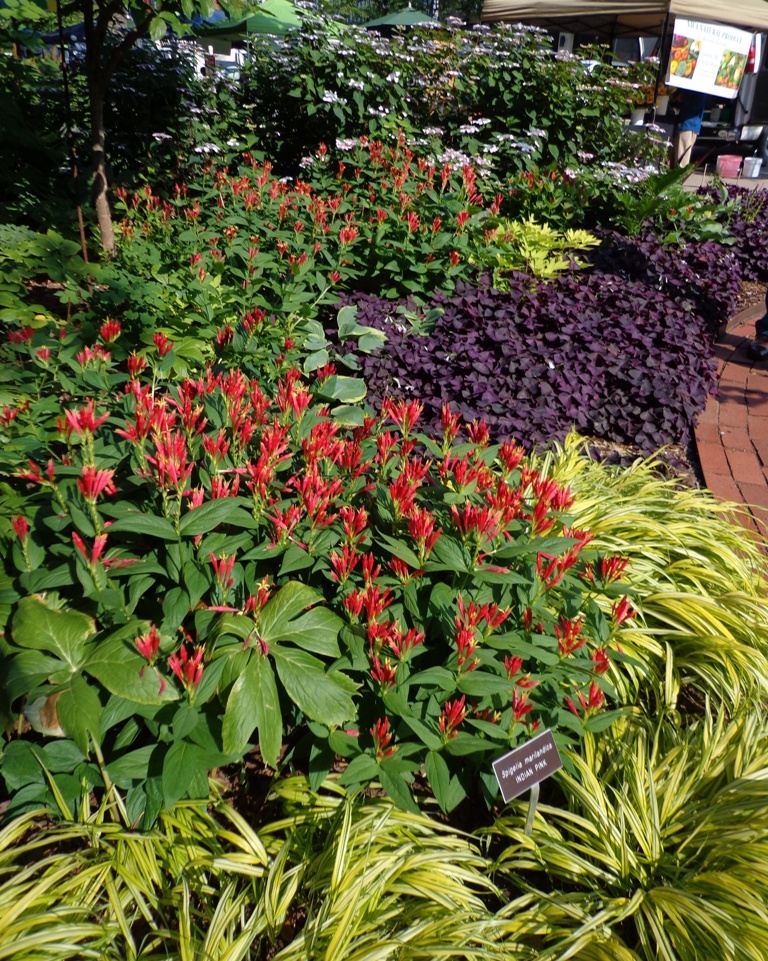 I photographed these plants at a spectacular municipal garden in the central square of Fayetteville, Arkansas this past May. I do have a few sad little specimens in my home garden, but we have yet to grow this magnificent native American plant in a mostly Tropical Family Loganiaceae at he Botanic Gardens! Another plant for our acquisition list...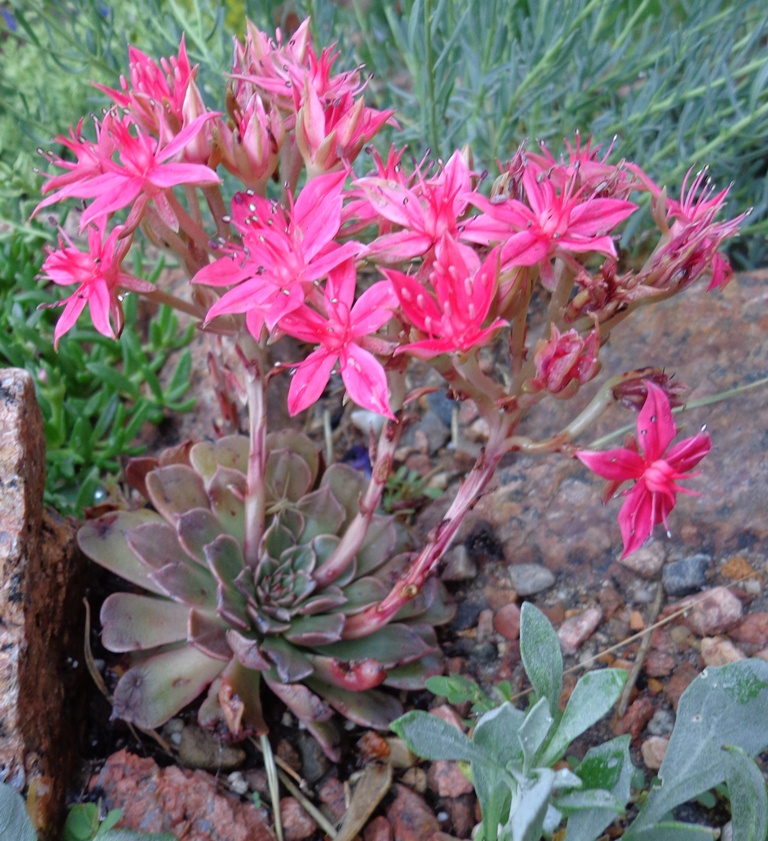 Okay: I confess. This wonderful little sedum relative from Mexico has not been through a winter yet (although I have left it outside through the first hard frosts of this autumn and it's looking good)...You have to admit, it has that remarkable color that suggests jingle bells and the Holiday Season, even though it blooms in summer!
Obviously--although not the commonest hue in flowers,  there are nevertheless bright reds out there for bold gardeners to grow.  You too can have the Christmas spirit year around--sort of like some retailers lately! Just let's not start whistling Christmas carols in July!
Comments
Cactus pictured above
The cactus shown above is a hybrid with the name Echinocereus x roetteri. Its parent plants are the Texas Rainbow Cactus (Echinocereus dasyacanthus) and the claret cup (E. coccineus ssp. roseus).
The hybrid pictured displays the physical characteristics (phenotype) of the E. dasyacanthus parent, which exhibits almost pectinate spines and produces large blossoms.
Add new comment