Celebrate Día de los Muertos Virtually
October 9, 2020
Tiffany Coleman
, Marketing Manager
Día de los Muertos is a traditional Mexican holiday that takes place November 1-2. At the Gardens, we've been celebrating the Day of the Dead for the past decade with folklórico dancers, mariarchi, face painting, crafts like sugar skull painting and a mercado with local artisans. Attendees always dress in their best Día de los Muertos attire for this popular event. Community altars are on display, sometimes towering and brightly painted catrinas dot the grounds and there's even a costume contest.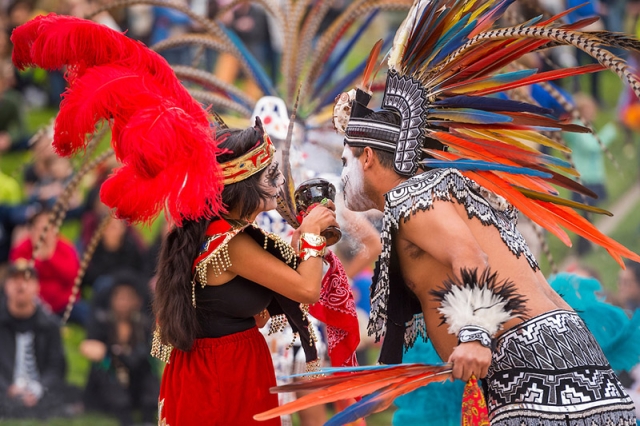 A traditional performance from Día de los Muertos, 2015.
This year, since we can't gather in person like usual, our Día celebration is virtual. We encourage you to observe this holiday in a way that is personal and meaningful to you. We've created activities you can do at home, and we are hosting a selection of online workshops for all ages to help inspire your Día celebration.
Kids can participate in a STEAM-based activity that helps them learn a little bit about Mexico during a fun, live workshop. They can make miniature ofrendas in an onsite class (following COVID regulations) or take materials home to work on. Coloring pages are available for download, so crack open the crayons, glitter and glue and unleash your creativity! The more colorful, the better.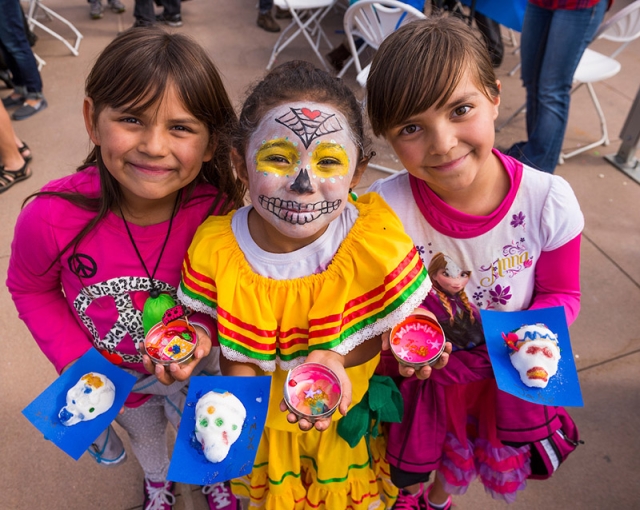 Whether you're a foodie or want to delve deeper into the traditions surrounding this holiday, you'll want to join us for Día de Mole Negro. Día de los Muertos celebrates loved ones who have passed; it balances the bitter with the sweet. Mole embodies the essence of Día and is an important part of this celebration. Chef Edwin Sandoval leads this workshop on creating classic mole with a Honduran twist. 
Gather the family in the car to see several large, colorful nichos created by Los Angeles-based artist Richard Soltera, on view in Greeley, Sterling, Longmont, Loveland and Fort Collins. This is a continuation of the Nichos Art Exchange Project, a community art initiative in partnership with the Greeley Creative District. The nichos – which served as the centerpiece for the 2016 Days of the Dead exhibition at the Gardens – have been decorated by Creative District committee members, community members and local artists.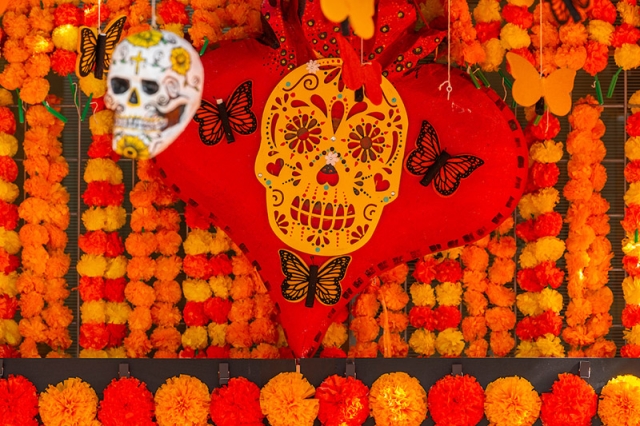 Information about these offerings, plus a virtual mercado featuring Colorado artisans, 2021 trips to Mexico and more, can be found on our Día de los Muertos virtual celebration page. Check back as we continue to add activities through the month of October. 
Later this month, we'll feature a blog post that guides you through creating your own altar to honor loved ones who have passed.