Anxiously Awaiting Spring
April 14, 2021
Michelle DePrenger-Levin
, Research Associate
Spring is the season where I switch from working in the office on a quest to discover patterns in our data that predict the behavior of rare plant populations to venturing out to the field to view these processes in action. A typical year has unexpected hiccups and challenges, from flat tires miles into rugged terrain to sudden spring storms that flood our path and make dirt roads impassable. A global pandemic presented a new challenge and prevented us from visiting our Sclerocactus glaucus sites in the spring of 2020. I watched the Pine Gulch fire in September 2020 creep east toward the northern populations of the cactus. Much of the total range of the cactus remains in the exceptional drought category (D4) in the spring of 2021. 
Field crew crossing the flooded arroyo in 2011.
Despite these concerning events, I expect to find robust populations, bright pink flowers and new seedlings poking through the cobble and shale when we return this spring. The populations have experienced drought in the past, but we have only observed these populations since 2008. In 2021 we will expand our work on this cactus. Since 2008 we have been tracking recruitment, growth and reproductive effort of individual plants. These vital rates can be correlated with variation in precipitation and temperature to build hypotheses of drivers of population persistence. We are expanding this work to document seed movement.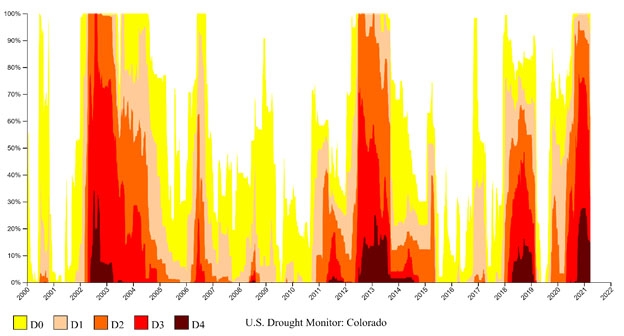 D0 – Abnormally Dry to D4 – Exceptional Drought. Source.
It is assumed that the range of Sclerocactus glaucus is constrained by seed dispersal. Populations are found in open areas where conditions are favorable for germination and survival. The range could expand if seed can disperse to favorable habitat as conditions change over time. The range of the species will decrease where environmental conditions cause population decline. While we have studied this species for many years, we still know relatively little about its seed dispersal. Seed are released from the fruit in the summer and fall and are likely dispersed by rain and gravity, but these cactus seeds also contain lipid rich growths (elaiosomes) that can attract ants. Ants are known to collect seed to eat the spongy tissue. This year, we will be setting up plots to watch how ants interact with our seeds to understand the role they play in seed dispersal. We will also test how the removal of elaiosomes impacts germination.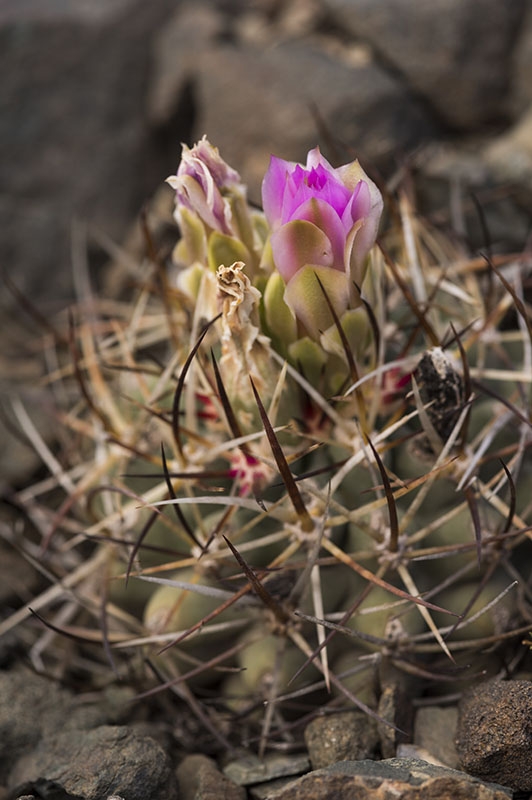 Sclerocactu glaucus (north of DeBeque) opening blooms.
I'm anxiously awaiting a new field season with what is sure to have new challenges but provide novel insight into the population dynamics of this rare cactus.