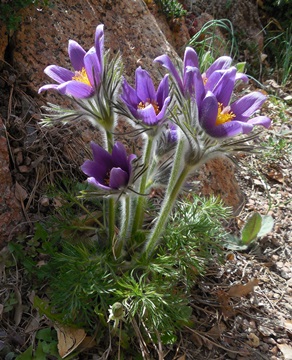 Pasqueflower
There are pasqueflowers throughout Denver Botanic Gardens this week--especially in the rock garden. I have observed many interesting phenomena in my long career at Denver Botanic Gardens: the proliferation of perennials and alpines being perhaps my favorite. Don't get me wrong, I love annuals (and grow my share of petunias!): when I first came to D.B.G., annuals were the centerpiece throughout: Victorian carpet bedding. The Rock Alpine Garden (I was hired as its Curator 34 years ago last week) was the first lavish display of perennials at the Gardens, only followed by the Perennial Border proper (now the O'Fallon Perennial Walk) a few years later. Nowadays, perennials provide the backbone of practically every garden, and "alpines"--perhaps better described as rock garden plants--are nearly as ubiquitous: I hasten to point out that the distinctions "perennial" and "alpine" are both specious, albeit useful generalizations. Perennial is usually applied to larger herbaceous plants, and alpine to the tinier ones that are usually planted in alpine gardens or troughs. Almost all alpines are of course perennials, and there are plenty of coarse herbaceous giants occur on alpine tundra. Details, details! The larger perennials (think peonies or Oriental poppies) don't usually bloom prolifically until later in May or June thenceforward to autumn. March, April and May belong to the alpines, which are glorious throughout Denver Botanic Gardens right now, and will be sold in droves on Saturday, April 26 from 9:00 AM to 3:00PM in Mitchell Hall at the annual North American Rock Garden Society's gala sale. Don't miss it!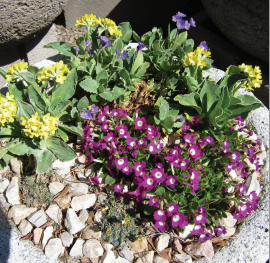 Alpine trough
The alpine plant sale this weekend will also feature a display of troughs--the term used to describe concrete planters designed to look like antique rock containers now used to grow tiny perennjials outdoors year around. Many members of the club (and staff of Denver Botanic Gardens) will be bringing these to show at the sale to give you inspiration on how you too might grow some of these tiny plants. Plant Select is also getting into the act with "Select Petites": a new category of Plant Select plants chosen for their small size: these will be available at this sale as well.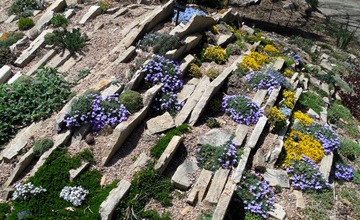 Crevice garden at DBG
Here is a picture I took this week of one of the many crevice gardens that grace the Rock Alpine Garden and also the new Children's Garden: these gardens are ablaze with color right now:: full of tiny alpine gems: do come down soon to the Gardens to enjoy these jewelboxes: perhaps you have a spot in your own garden to incorporate a feature like this?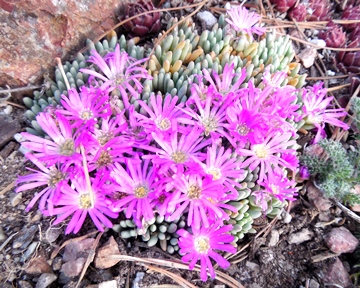 Delosperma sphalmanthoides
Here is a typical "alpine" gem you might find at the sale. I actually took the picture in my own rock garden last week--this Delosperma is not truly high alpine where it comes from on top of Komsberg Pass, in South Africa. It certainly looks like a high alpine plant, and needs the conditions of a rock garden to grow in cultivation. This plant has special meaning for me because i first obtained it 25 years ago from John Lavranos as an unknown collection: I gave cuttings to the Huntington botanic gardens and subesequently it was identified as a plant new to science--the first such plant described from our collections! It has gone on to become a popular plant in Europe and back in its homeland as well--and since it is only known to grow sparesly in less than an acre of rocky ground in nature. I'll bet there will be some of this for sale next weekend!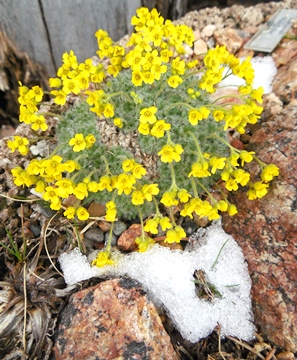 Draba polytricha
I took this last picture last weekend of a trough in my home garden: this amazingly wooly crucifer comes from Turkey originally, and thrives in Colorado gardens. I'll bet there will be lots of this at the sale! It's been blooming since February, and will bloom into May--a long season indeed. As you can see, it came through the snow unfazed: one of the many benefits of growing rock garden plants is that they bloom long and early, and shrug off snow and even hail like their pleasant impediments. In our changeable climate, this is a charming trait. Come by the gardens and enjoy some of the hundreds of rock plants and alpines growing here and there throughout the grounds, but with special concentration in the Children's garden and the Rock Alpine Garden. Denver is renowned among American Public Gardens for our alpine collections--and perhaps now is the time you should see where you can't grow a few in your garden too!