2020 Science: Year in Review
May 11, 2021
Research & Conservation
Despite the challenges our community faced throughout the global pandemic, the Research & Conservation Department is grateful for the many accomplishments we were able to celebrate in 2020. Our Science: Year in Review highlights our successful move into the Freyer – Newman Center, expanded projects, our graduate training program and ways we connected people with plants.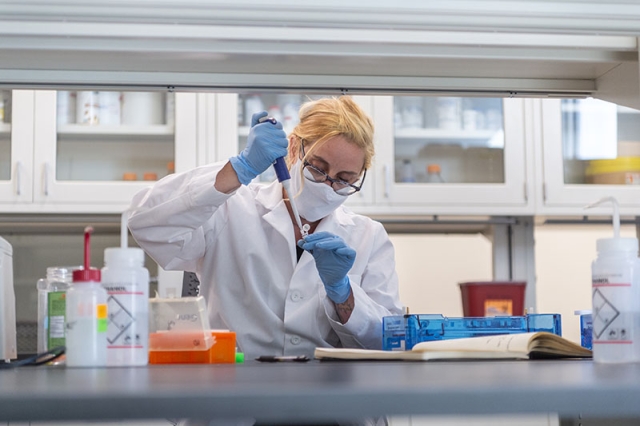 Graduate student Emily Orr in our new Genetics Lab 
The 2020 Science: Year in Review discusses the ways we adapted to and navigated difficult transitions. While we drastically changed our day-to-day, we also prepared for our big move to the Center. Thanks to our dedicated staff, graduate students and volunteers, we were prepared well in advance and our move was a success. Now with new safety protocols in place and expanded capacity, programing, collections and funding, we can look forward to a time when our community can safely enjoy the Center.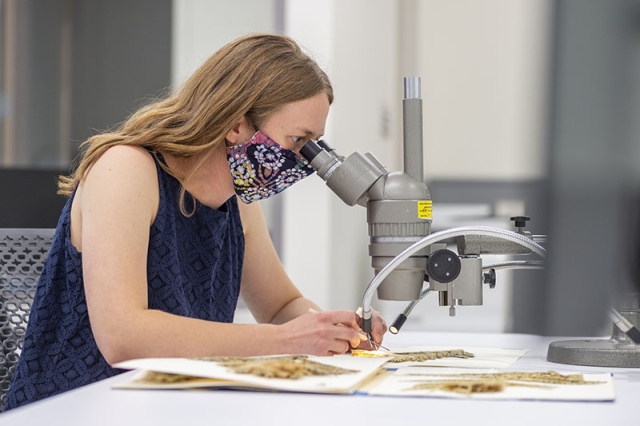 Collections Assistant Margo Yousse processing specimen 
In addition to our move, with new safety protocols installed, our team was able to continue our research. From collecting data on a green stormwater infrastructure project site along the High Line Canal to collecting thousands of seeds for the Bureau of Land Management Seeds of Success program, our team demonstrated immense grit while collecting and analyzing data, publishing papers and continuing our meaningful work. Our Science: Year in Review publication celebrates more of our efforts and accomplishments in the field and in our new labs. 
While we continue to navigate our world after a global pandemic, you can learn more about research, conservation and our efforts to connect people with plants through our 2020 Science: Year in Review.
This article was contributed by Karen Rojas Meza, research coordinator.