The summit convenes water industry experts, business leaders, conservation specialists, educators and other professionals to gain new insights on a variety of water issues in Colorado and the West. 
Watershed Summit 2021, or "Shed '21" as we like to call it, is produced through a collaborative partnership between the Colorado Water Conservation Board, Denver Water, Aurora Water, the One World One Water (OWOW) Center, Resource Central and Denver Botanic Gardens.
Two ways to participate in Shed '21:
June 24, 9 a.m. – 1 p.m.: In-person event at Denver Botanic Gardens (hosted outdoors with limited capacity.) $50
Week of June 28: Highlights from the in-person event plus lots of exclusive bonus features only available online. $25
Registration for both in-person and online event opens May 3.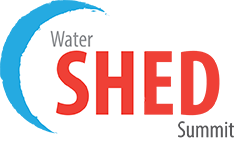 BROUGHT TO YOU BY: