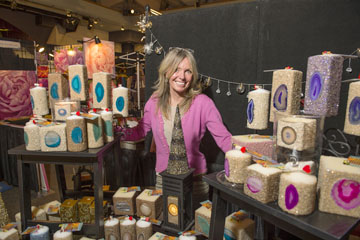 Start your holiday shopping at the Gardens' Winter Gift Market, formally known as Holiday Sale. Vendors sell one-of-a-kind, handcrafted holiday items, bath and body products, pottery, jewelry, specialty foods, clothing, antiques and more. Denver Botanic Gardens' Guild sells its popular assortment of homemade gourmet herbal vinegars and seasoning mixes with herbs from the Gardens. 
The Boettcher Memorial Tropical Conservatory is closed during the Winter Gift Market.
Winter Gift Market Sneak Peek
Shop early for the best selection of items from the vendors as you enjoy an array of appetizers, wine and beer along with live entertainment.
Date & Time:
Thursday, Nov. 12, 2015
5:30-8:30 p.m. (last admission 7:30 p.m.)
Admission:
$15 Members, $20 Non-members
Guests must be at least 21 years of age.
Winter Gift Market
Dates, Times & Admission:
Friday & Saturday, Nov. 13 & 14, 2015
9 a.m. - 5 p.m. both days
Free admission to the Gardens
Members receive 10 percent discount on purchases at the Sneak Peek and the Winter Gift Market with presented membership card. 
Interested in becoming a vendor at the Winter Gift Market? Here is a vendor application and the rules and regulations. The first round of vendor jurying is complete. We still have several booth spaces available. Completed applications will be juried based on availability and vendor category.
Email us at specialevents@botanicgardens.org with questions about the Winter Gift Market.
*Give Your Antiques a Good Home!
While you're doing your house cleaning and find items you no longer use, donate your quality antiques and vintage collections for the Gardens' Winter Gift Market. Desired treasures include crystal, china, silver, linens, jewelry, porcelain, quilts, Depression glass, artwork and other vintage items.
Proceeds benefit the Gardens and donations are tax deductible as permitted by law.
For more information, contact these Denver Botanic Gardens Guild members:
Cris Dixon at 303-393-1044 or Joyce Walker at 303-733-0749.