What a difference a month makes!
November 23, 2010
Panayoti Kelaidis
, Senior Curator & Director of Outreach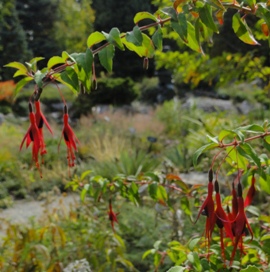 These pictures were all taken exactly one month ago: most years we have a dusting of snow by early October, and light frosts, but this amazing year the autumn wore on and on. But by Thanksgiving, winter rules the roost. Each year I am astonished at how utterly the landscape transforms with the first hard frosts: one day things look almost summery, with fuchsias dangling in the gentle breeze, annuals in prime form and blazing fall color everywhere. Abruptly, the leaves fall, the tender plants are crisped and hardy plants hunker down.
Cardoon and giant Castor beans
In the sere winter months (which have their own austere beauty, I admit), we forget how lush things were just yesterday: the giant Cardoons spreading almost six feet across, and towering Castor beans (great crowd pleasers) along the Drop Dead Red border. Francois Villon asked "Where are the snows of yesteryear?" Well, others pine for verdure and the lolling luxury of summer.
South African Succulents in autumn glory
All summer long the containers throughout the gardens did their duty. I particularly admire the wonderful succulent containers in the South African plaza: but a single flower of Pelargonium just off center, but such richness of color and texture in stems and chubby leaves. No doubt these are tucked away safely in a glasshouse, waiting to come out again next spring. But it takes the intense summer sun and brash winds to bring out these colors in the out of doors. I love how in this picture we have the intricate vignette of container in the foreground, but a vista of intriguing mystery beyond. This interplay of vista and vignette is really the secret to the magic of Denver Botanic Gardens! In my opinion, nobody does it better than our talented horticulturists! We can all get all excited about winter bark, branches and berries, but it's fun to take a longing, lingering look back at a really awesome growing season! And now let's dream about the one to come!