From the Vault: Watercolor Paintings by Irene Jerome Hood 
January 3, 2022
Exhibits Department
The art collection at Denver Botanic Gardens is now publicly accessible via the PastPerfect database! Discover more than 800 beautiful and curious artworks just waiting to be browsed. While exploring the art collection, take note of the impressive number of artworks by significant female botanical artists in Colorado including Anne Ophelia Dowden, Emma Armstrong Ervin and Irene Jerome Hood.  
One of my favorite artists in the collection is undoubtedly Irene Jerome Hood (1858-1945). Hood was a renowned artist and photographer active in the Victorian era. She grew up in Ellicottville, New York. Hood and her husband moved to Colorado in 1892 and the artist spent a lot of time creating artwork in and around her Denver home. Hood's accomplishments include four books of nature photography, an exhibition of sketches of Colorado scenery and illustrations for a book by Enos Mills about Estes Park. Our art collection contains 162 of her watercolor paintings.  
These artworks are of interest to Coloradans and those fond of the wonderful geographic diversity of the state. Hood depicts remote and pristine mountain vistas as well as iconic Colorado urban locales including beloved public parks. While we're in these winter months, Hood's paintings of Washington Park from summer and fall ignite a nostalgia for these color-filled months of brilliant blooms and foliage.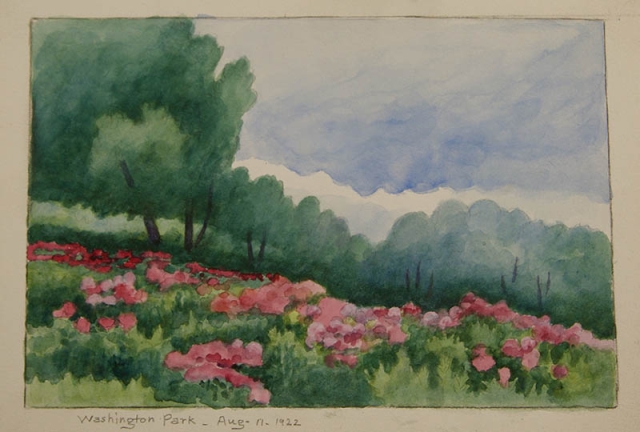 Irene Jerome Hood, Washington Park Pink 1922, watercolor, 1922.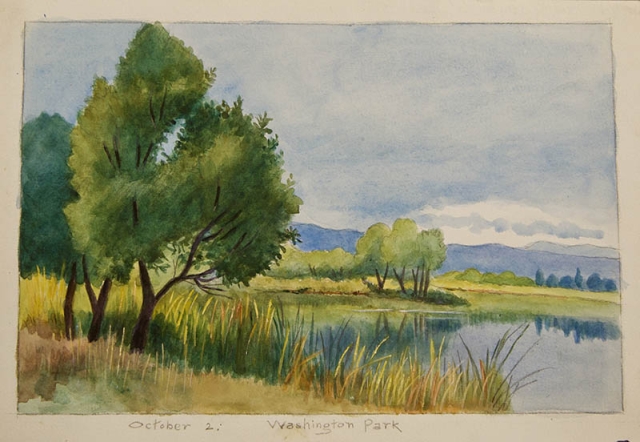 Irene Jerome Hood, Washington Park October 2, watercolor, ca. 1928. 
Another notable quality of Hood's watercolors is the originality of her compositions. In several watercolors Hood opts for a more artistic context for her botanicals, diverging from the traditional scientific style of botanical illustration. In Bryant Anemones, Hood adds interest to her watercolor by creating optical illusions in paint; Hood creates a crack that appears to be three dimensional and then makes it appear as if the flower on the right is arranged in a slit in the paper.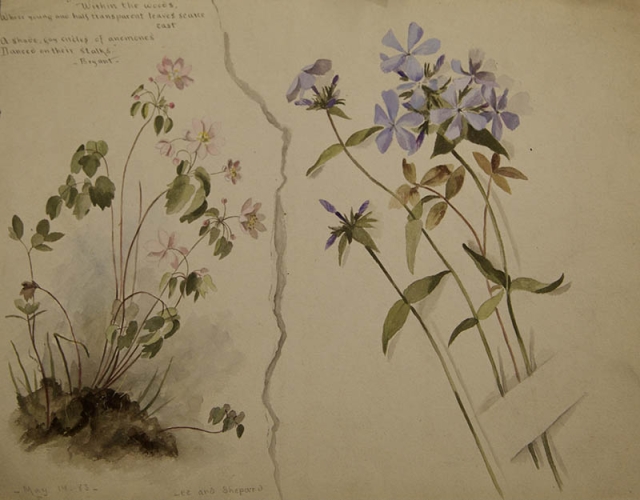 Irene Jerome Hood, Bryant Anemones, watercolor, 1883. 
Hood also married art and poetry within many of her botanical works. One of Hood's watercolors prominently features William Wordsworth's famous 1804 poem "I Wandered Lonely as a Cloud." Hood combines manuscript lettering with a small waterscape and yellow daffodils bringing her artwork to life with the poetry of William Wordsworth.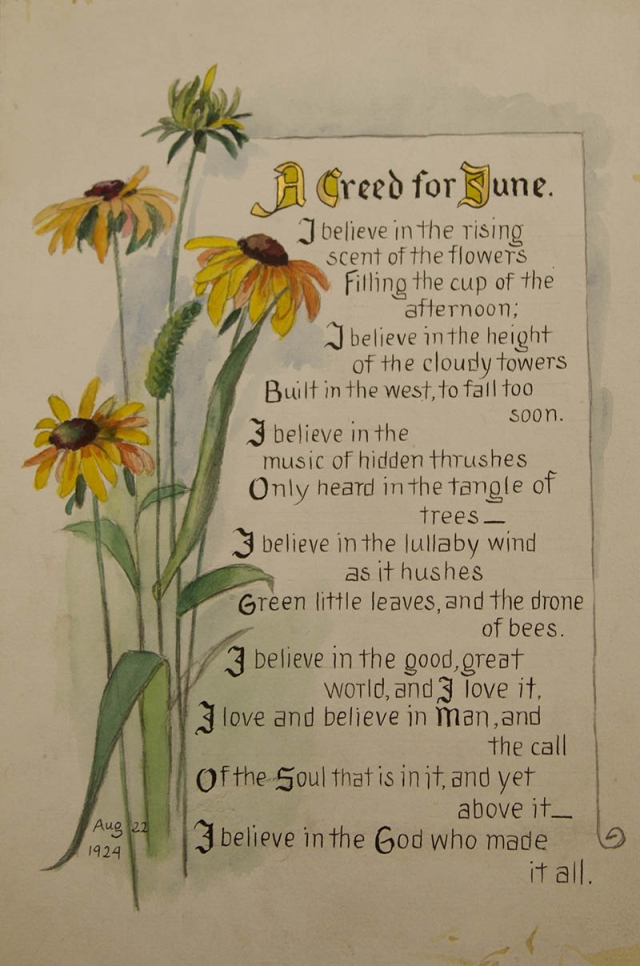 Irene Jerome Hood, I Wandered Lonely as a Cloud, watercolor, date unknown. 
Irene Jerome Hood had a unique penchant for infusing her artwork with personality and conveying to viewers the beauty of the natural world in her expertly rendered watercolors. To learn more about the art collections and to view more works by Irene Jerome Hood, visit the Gardens' online art collections database.  
This post was written by Art Collections Assistant Megan Adams.