Tips for Planning Your Event or Wedding Outside
March 17, 2022
Bridget Molloy
, Manager, Venue Sales and Implementation
Sitting among the blooms, hearing the hum of bees and songs of 240 species of birds—welcome to Chatfield Farms, nestled between the foothills and Chatfield Reservoir, a nature lover's oasis just south of Denver. 
Chatfield Farms offers 700 beautiful acres space for adults, families and businesses looking for a quick escape from the city. Imagine enjoying a high tea with 10 friends under the pergola in the Lavender Garden or creating a beautiful event space with tents and lounge furniture. The possibilities are nearly endless. Below are ideas and tips for planning an outdoor wedding or event to make it fun, successful and unique.  
 
Outdoor Enhancements 
Transforming your event space is all about visualizing possibilities. High-peaked tents create a dramatic space for a gala, dance floor or reception. Adding small lounge areas can create a special place for VIP, elderly guests or girlfriends; imagine a velvet couch and chairs with a heater and rug under glowing string lights. Our team can suggest rental companies that can provide tents and furniture to enhance your event. At Chatfield Farms we work with AllWell Rents and Butler Rents.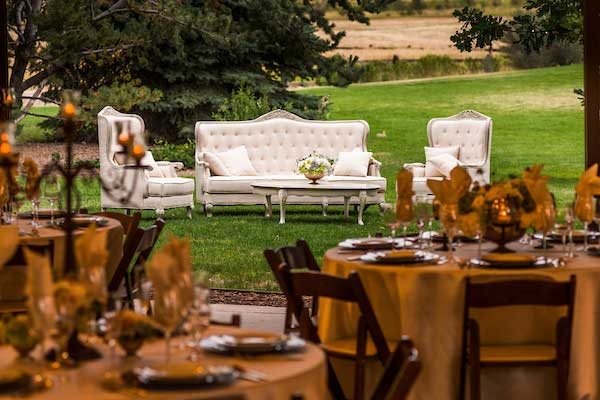 Footwear for the Outdoors 
Are the paths paved or dirt? What is the parking lot like? What is the surrounding of the venue? These will all be important factors to communicate to your guests – there's nothing like a pair of nice heels sinking into the dirt all night. Flats and or thick, sturdy heels will usually do the trick out at Chatfield Farms for a fancier event as there is one paved path between all the venue spaces around the garden. While this makes each venue accessible as well as for those with ADA needs, most spaces come with open grassy areas for your guests to enjoy a cocktail or spread out a picnic blanket depending on the occasion. Depending on the weather, the surrounding grassy areas may be soft and potentially muddy, so come prepared! 
 
Restrooms 
Everyone will need to go at some point. Are there enough restrooms on site to accommodate your guests? Some sites will require additional restroom rentals if you have a larger number of guests, so be sure to check. Another factor if you are planning a wedding is the dresses and fine clothing that people will likely be wearing. If you'd like to upscale your party, restroom rental companies such as The Lavish Loo are available for exactly that. It's a fancy pop-up restroom for your party.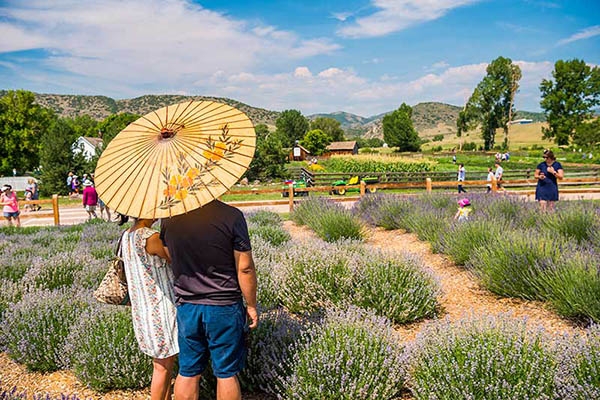 Weather Woes 
While Colorado always needs more rain, I'm sure you wouldn't wish for this this during your event. On the opposite end, the blazing summer sun is also a bit much sometimes, especially if you are dressed up in a suit and sweating or in a strappy dress getting sun burned. Luckily, there are companies that offer weather 'décor' such as matching umbrellas, parasols, cute matching throws and more. Remind your guests to come prepared, check the weather that morning and offer an inclement weather event service such as Weather or Not.  
 
I hope these tips for planning your outdoors event is helpful! Denver Botanic Gardens and Denver Botanic Gardens Chatfield Farms are always here to help guide you through your event planning with our wonderful vendors and professional private events teams. There's nothing like being among nature with friends and or colleagues.  
Reach out to our team to book your event at 720-856-4339 or chatfieldrentals@botanicgardens.org