Think You Can Wait to Book Your Holiday Party? Think Again!
October 4, 2019
Special Events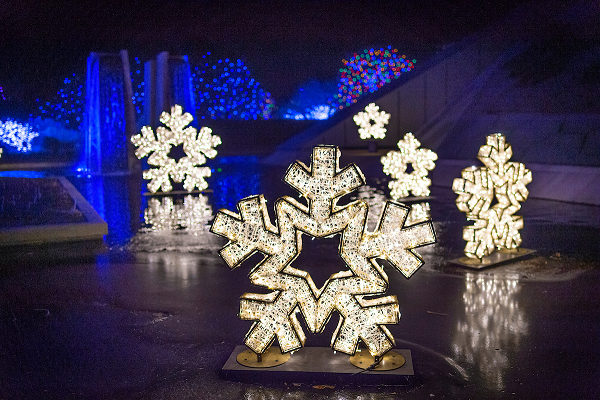 The tradition of gathering together in the winter months goes back almost as far as humanity itself. Today, that tradition is celebrated by families, friends, and even by companies and organizations that want to recognize the hard work and accomplishments of their team over the past year.
Unfortunately, by the time most of us are ready to put autumn in the rear-view mirror and begin thinking about the winter holidays, many of the prime dates and venues for holiday party rentals are already booked. Competition for caterers and entertainers becomes equally fierce. As the Blossoms of Light™ holiday parties at the Gardens become more and more popular each year, we recommend booking your event as soon as possible so you and your guests don't miss out on this unique, nationally-ranked display of over half a million lights.
But fear not, you're not too late! With several unique spaces and booking options available between November 29 – December 21, 2019 and November 27 – December 20, 2020, we can accommodate parties of almost any size or style during Blossoms of Light. And don't forget – your guests get the special experience of wandering through our dazzling wonderland of light and color when they aren't retreating to your venue for treats and beverages.
Celebrate the end of the season with your colleagues or loved ones at Blossoms of Light; it's sure to be a night they'll remember for years to come. Contact us for more information at private.events@botanicgardens.org or 720-865-3551.