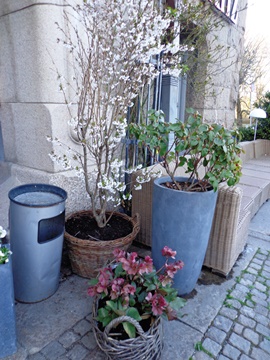 Floral decoration in front of restaurant
We shall get to the gardens in a minute--but this is a glimpse of an not unusual scene in the old town of Gothenburg: a tad early for the summer annuals, a wonderful restaurant we dined at had this cluster of trees and perennials at their front door--pretty sophisticated for city folk! It is so strange to see Helleborus niger (or its hybrids) used as ornamentation. I hope they plant it in their garden soon...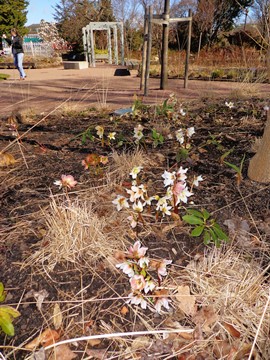 Christmas roses still blooming in May in the Old Garden at Gothenburg
The Botanic Garden (Botaniska Tradgarden) has such allure that we almost didn't visit what must have been the original botanic garden in the heart of the old city: that would have been a mistake! This graceful old garden is a masterpiece of horticulture: lavish beds on all sides...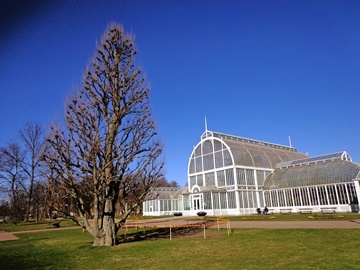 and the spectacular conservatory in the grand Victorian era manner. This is a must see if you come to Gothenburg!
We were too early to get inside the grand conservatory which only opened at 10AM--but the collections were extensive and made us wish we didn't have to leave so soon!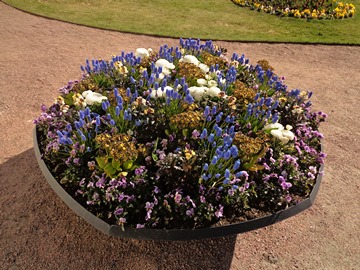 Seasonal planter with bulbs and pansies
I suspect the giant containers outside the conservatory had only been planted a few weeks (judging by their contents)--the double Ranunculus made a bold contrast to the rich tapestry of grape hyacinths and pansies--I suspect in another month or two this will be swapped for summer annuals.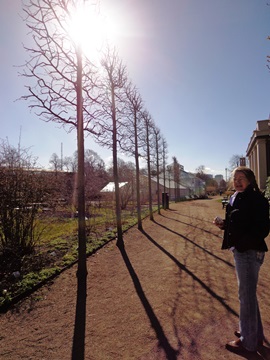 I've heard topiary described as a lifetime commitment: anyone who has pruned knows that pleached trees such as this represent decades of care.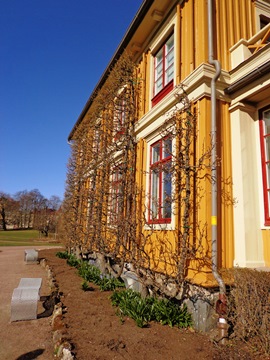 Exquisitely pruned wisteria in front of a building on the Gardens' grounds.
We were a few weeks early for the wisteria--although I suspect in an "ordinary" year it would be out by now...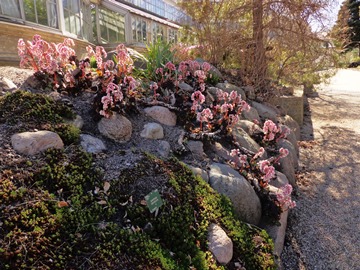 Long bank covered with Bergenia ciliata from the Himalayas
After crossing the channel in a ferry and a certain amount of wandering, we arrived later that same day  at the Botanic Garden of Copenhaven--like Gothenburg, this represents a very old institution (they celebrated their 400th anniversary a few years ago)...and likewise situated in the heart of the city. One of the first things to greet us in the entrance was this spectacular stand of one of the loveliest Bergenia....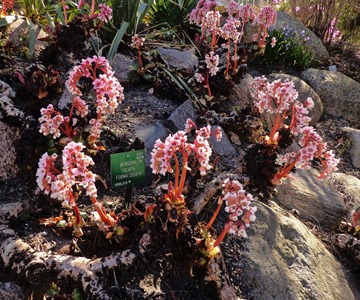 Closeup of Bergenia ciliata v. ciliata
We grow this at Denver Botanic Gardens as well--and I was rather proud of our yard wide stand--but this had gnarly, ropy stems many yards long, with hundreds of flower stems! Impressive!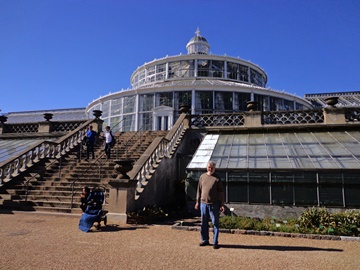 The Conservatory at Copenhaven botanic garden with our host, Dr. Hans Hansen.
Like Gothenburg, CBG has a spectacular Victorian-era conservatory that is in excellent repair, with wonderful ancillary greenhouses with beautiful collecitons of cacti, begonias, orchids and more.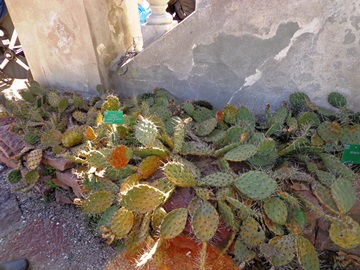 Hardy opuntias planted outside the conservatory
There were some vigorous masses of hardy cacti outside the conservatory. Despite a fierce winter, they came through well. Although I did notice much  more rust than they would get in our own dry climate.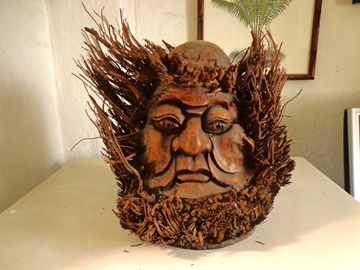 There is much more to convey about both these venerable European gardens (Copenhagen in particular has an immense rock garden full of treasures--the result of their long history of research in Greece due to Arne Strid's publishing several floras of Greece in the last century). Perhaps I can share some more later...but meanwhile, we are off to Germany where there are botanic gardens in every town it seems, and some of enormous scope and activity. It will be great fun to visit some of these as well.  Each mile we drive further south there are more and more trees in flower and spring is exploding everywhere--as it finally is back home we hear! Time to go out there and sniff the flowers!