Slow Flowers
June 22, 2021
Josie Hart
, Associate Director of Farm Programs
For many, the term flower farmer is a new one – but for the last 10 years the "slow flowers" movement of producing American grown flowers has been gaining momentum and market share in the flower industry. I am a flower farmer – and that means that I grow flowers the same way we grow vegetables or other crops in rows, with the same methods. 
Traditionally, 80% of all flowers purchased in the United States are imported from countries that use harsh chemicals and cheap labor to get perfect stems into your grocery store – with a rather large carbon footprint. Many flower farmers across the country are producing flowers without chemicals, grown and sold locally. Chatfield Farms offers a flower share through our CSA to bring a regenerative approach to your bouquet sourcing.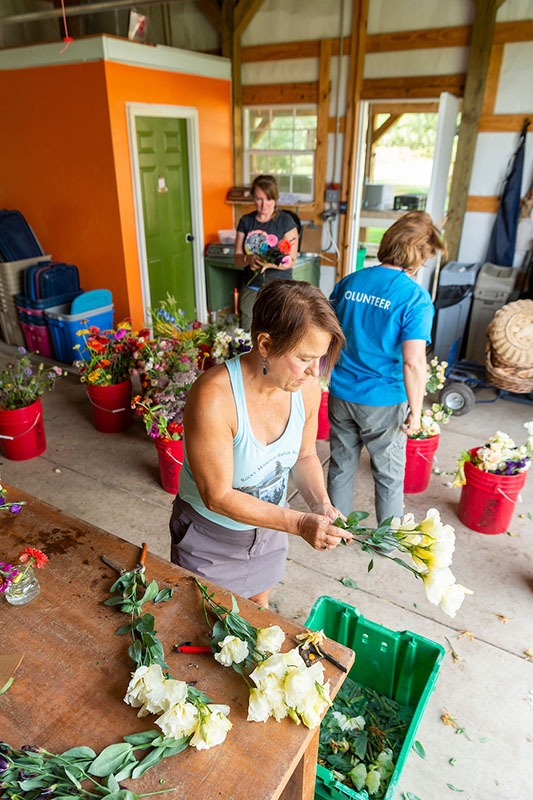 Because we endeavor to reduce tillage of our soil and not to use herbicides or chemical fertilizers (that reduce field work time), our flower and vegetable production can be labor-intensive and strenuous. When we think about regenerative agriculture, we normally equate practices that are gentle and helpful to our ecosystem; but we should also think about our farmers and physical labor as another input. If we can reduce the amount of inputs going into each crop being produced, we save time, money and physical stress on each farmer. 
Enter in flower production with perennials and native varieties. Most flower operations heavily depend on succession plantings of annuals for lots of blooms all season long (myself included). But annuals are time and resource intensive, often leaving the farmer to plant literally thousands of transplants every spring and mid-summer to produce an adequate supply. Perennials bloom every year without much work, except for annual pruning and fertilizing. Native plants assist native pollinators to access vital nectar and habitat – as well as increasing the overall health of the farm ecosystem.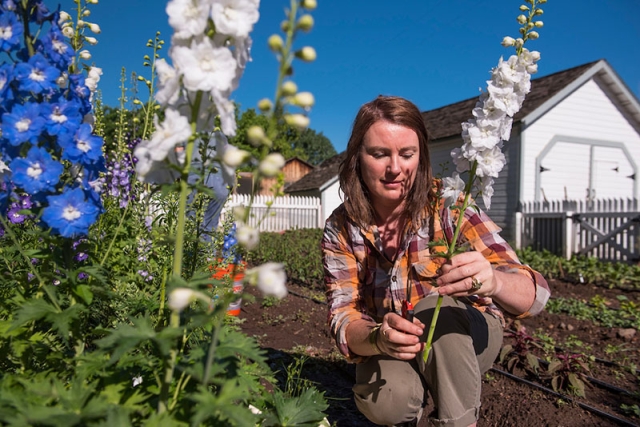 This year I am trialing a new approach to my cut flower operation by introducing several native perennials that I hope over time will replace a few annual non-native crops. I am trialing several species recommended by Grace Johnson, our Plant Select expert, including Phlox paniculate, Penstemon cobaea, Baptisia alba, Linum lewisii and Physostegia virginiana, among several others this season, to see how they do in a row-crop setting, integrated into the annual production. 
If I can get these varieties to bloom several times after being sheered, then perhaps they will become formal members of my bouquet repertoire. This will save me hours spent seeding, transplanting and then removing hundreds of annuals at the end of each season. Regenerative systems benefit the earth first, but they also benefit the life of the farmer and their workload. At the end of the day, the farmer needs to start regenerating their own system, and that is what we hope to see happen with our shifting awareness of regenerative agriculture.
 
Comments
Sustainable flowers
Here is the article on sustainable flowers I mentioned on my Instagram comment. I couldn't put the link on Instagram.
https://frontrangewildones.org/2021/04/30/sustainable-flowers-on-the-front-range/
Add new comment