Search the Databases
July 5, 2023
Research & Conservation
Did you know that anyone with an internet connection can take a virtual tour of the Gardens' natural history collections? Our collections hold plant, fungal and arthropod specimens – organisms collected from nature for scientific study. These specimens provide tangible evidence for research and understanding of biodiversity and ecosystems. We diligently digitize all our specimens so that they are as accessible and useful to as many people as possible.
The process of digitization involves taking high-resolution photos of specimens, capturing associated data and making it all available online. This freely accessible resource revolutionizes the way scientists and the public interact with and study our natural history collections.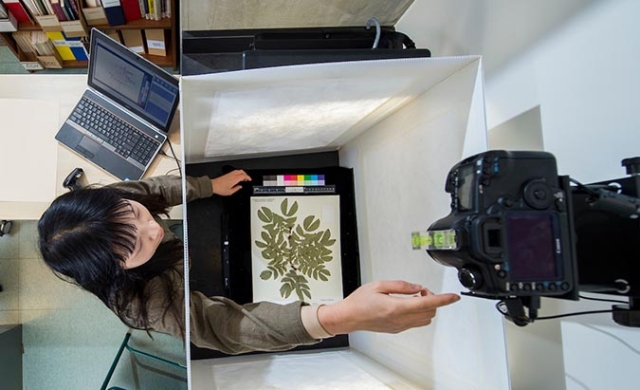 Herbarium staff taking a high-resolution photo of a plant specimen for digitization.
Digitizing natural history collections plays a crucial role in preserving and enhancing our understanding of the Earth's biodiversity. These collections are invaluable repositories of scientific knowledge. However, many specimens are fragile and susceptible to damage, and their physical access is often limited to researchers and experts. Specimen digitization helps protect and preserve delicate museum specimens by reducing the need for physical handling and transportation, thereby minimizing the risk of damage and loss. 
One of the primary benefits of digitization is increased accessibility. By making collections available online, scientists, students, educators and enthusiasts from around the world can explore and study specimens without the constraints of geographical distance or limited access to physical collections. This accessibility democratizes scientific knowledge, fosters collaboration and enables a wider range of research and educational opportunities.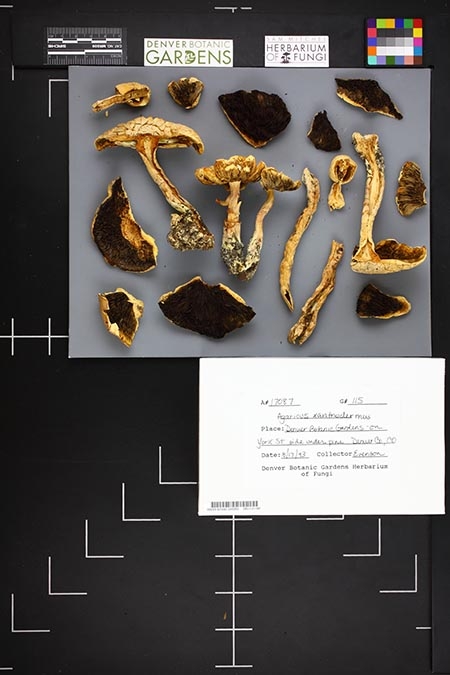 An example of a fungal specimen photo. 
Digitization also facilitates data integration and analysis. By capturing detailed specimen information, including taxonomy, geographic location and ecological data, digital records contribute to our understanding of biodiversity patterns, species distributions and environmental changes over time. The digitized datasets of natural history collections can be integrated with others, such as climate data or genetic information, enabling comprehensive analyses that were previously challenging or impossible.
By embracing digital technologies, we unlock the immense potential of these collections, fostering a deeper understanding of our planet's biodiversity and facilitating conservation efforts for future generations. Follow these linked instructions so that you can search the Kathryn Kalmbach Herbarium of Vascular Plants, the Sam Mitchel Herbarium of Fungi and Denver Botanic Gardens' arthropod collection to discover the wealth of curiosities within.