The following posts were created by dedicated and passionate volunteers and staff of Denver Botanic Gardens.  Please enjoy reading their stories and experiences about why the Gardens holds a special place in their hearts.
MIRACLE PLANT HOLDS A RICH HISTORY By Nick Snakenberg
Tucked away in the southwest corner of the Boettcher Memorial Tropical Conservatory, Aframomum melegueta is a rather unassuming plant. Most visitors are distracted by the showier bananas and papayas growing nearby, but this member of the ginger family has a story that may outshine its subtle appearance.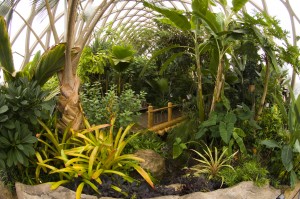 Aframomum melegueta, also known as Grains of Paradise, is a native of lowland areas of tropical West Africa. Before the spice roads from the Mid-East introduced a broader range of cooking spices, Aframomum was a staple for cooking, often being used as we now use black pepper. While its popularity as a spice has faded, there has been a recent resurgence in its use, not only in cooking, but as a flavoring in beer. In addition to its culinary uses, Aframomum is also locally known for its medicinal properties, being used to treat inflammations and infections. It also just happens to be a major component in the diet of the Western Lowland Gorilla. When horticulturists at the Denver Zoo learned that we were growing Aframomum at Denver Botanic Gardens, they were anxious to get their hands on some. It seems that captive gorillas often suffer from an unexplained heart condition and by adding more plants from their native habitats, especially Aframomum melegueta, the condition seems to go away. We gladly shared plants with the Denver Zoo, but our sharing didn't stop there. It wasn't long before we had requests for plants from the Smithsonian's National Museum of Natural History, The National Herb Garden at the U.S. National Arboretum, and the University of Minnesota, all interested in adding this plant to their collections or research programs. As a co-worker once told me, "Small plants can have big stories." The back story of our Aframomum melegueta includes spice trails, cooking, medicine, heart disease and gorillas. But it also includes the cooperation and generosity of universities and botanic gardens from around the world. What a great example of connecting people with plants! A common question from visitors to Denver Botanic Gardens is, "Where do you get all these strange plants?" Our horticulture staff acquires plants in a number of ways, but one of our best sources is our participation in Index Seminum, a free seed exchange program between botanic gardens around the world. In 2006, Denver Botanic Gardens acquired seed of Aframomum meleguetathrough a generous donation of seed collected in Ghana by researchers from Botanischer Garten der Universitat Bonn in Germany.
GRANDPARENTS INSPIRED PASSION FOR PLANTS By Jim Arneill
I have volunteered as a tour guide at Denver Botanic Gardens since retiring as an educator in 2004. My volunteer experience started a few years earlier when I began helping with the aquatic collection on Sunday mornings.  Soon I was giving tours about waterlilies and other aquatic plants.  Before I knew it, I was receiving wonderful training, and I began giving tours of the other magnificent gardens and special exhibits within the 24 acres of the Gardens.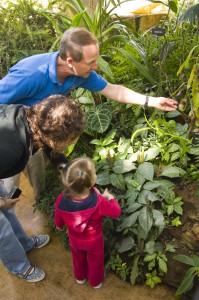 It is exciting to come to the Gardens and share my knowledge and enthusiasm with others. I also enjoy serving as a Gardens ambassador and training other volunteer tour guides about the aquatic collection and the Boettcher Tropical Memorial Conservatory. My favorite place at the Gardens, especially in the winter, has to be the Boettcher Tropical Conservatory. My fascination with the Boettcher Tropical Conservatory stems in part from the many tropical plants my grandparents grew in their sitting room. Burnham Hoyt, who designed Red Rocks Amphitheater, was also the architect of my grandparents' East Cedar Avenue home. The house incorporated two large soil beds in which a variety of tropical plants, both small and large, were grown inside the main living room behind large glass panes that faced south. There was even a faucet and short garden hose to help keep everything watered. My grandmother, Joyce Arneill, who served on the Board of Trustees at Denver Botanic Gardens from 1957-67, had a passion for gardening.  In addition to her many indoor tropical plants, she specialized in orchids.  She had an extensive collection in her greenhouse and brought these colorful and exotic cattleya and phaleonopsis inside when they were blooming.
Now that I think about it, her tropical plant beds resembled those in the Boettcher Tropical Conservatory, along with some of the same plants. When giving tours in the Boettcher Tropical Conservatory, I first like to learn about our visitors.  Where are they from, what their special plant interests may be, and is anything they hope to see or gain from the tour?  I also tell them that our mission is to connect people to plants. Just inside the entrance, I ask our visitors to look around and see if they notice any plants with which they are already familiar. It helps to begin trying to make connections right away. The peace lily (Spathiphyllum) right by the entrance door is often very recognizable and helps people feel at ease with the plants immediately. As I lead a group through this amazing structure, I look for plants that are in bloom or have a special story. Certain "classic plants" such as the chocolate tree (Theobroma cacao), black pepper (Piper nigrum), and the bay rum tree (Pimenta recemosa) always deserve a stop. Visitors also enjoy smelling the pleasant, spicy leaves of the bay rum tree and lemon-scented allspice. I have found that most groups like to spend more than the standard one-hour tour time experiencing the Boettcher Tropical Conservatory because there are so many fascinating plants. However, plants aren't the only attraction. Two ringed teal ducks named Sweet Pea and Mendel have recently made their home in the pond area, and it is not too unusual to come across other stray critters, such as anole lizards and frogs among the rainforest setting. Although the Boettcher Tropical Conservatory tour usually goes a bit longer than expected, I like to take time at the end to ask our visitors about plants to which they felt a special connection. When I hear their responses and sense everyone's enjoyment, I know my goal of connecting people to plants has been achieved. I'm pleased, and I know that my grandmother Joyce would also be very pleased. Support the Gardens and cutting-edge programs and research by giving online for Colorado Gives Day. Learn more.