Restoring Colorado's Front Range
December 16, 2022
Research & Conservation
Restoration is an integral part of land management and conservation. As natural disasters and human activity continue to impact biodiversity and wildlife habitat, it is becoming increasingly important to restore degraded land back into healthy ecosystems. Here at Denver Botanic Gardens, many scientists conduct research on ways to improve how we restore native plant communities in the Front Range. This year, I conducted this type of research down at Chatfield Farms, using native plant species brought in from all over the Western United States to see how well they grow here in Colorado. 
With the help of many of the Research & Conservation Department's wonderful seasonal staff, we planted over 5,000 seedlings from four different species native to the Front Range of Colorado and collected data on how the plants grew over the summer. We were pleased to see that they all did quite well in their first year! After just a few months in the ground, our seedlings were big and happy, which is good news for restoration efforts. Each seedling will continue to be monitored over the next several years to see how they perform long-term. 
With climate change on the horizon, it's important for land managers, like the Bureau of Land Management, to know what plants will survive here long term. Often it can be helpful to use species that are native to Colorado, but use of plants or seed that come from hotter and dryer regions in the county can help them to better adapt and survive long-term as temperatures get warmer and rain becomes less frequent. Other times, it is best to use plants or seeds that have been growing as close to the restoration site as possible, so that they are already well adapted to the environment they will be growing in. Knowing where to source plants from and where to plant them is an important research topic for bringing back native plant communities to Colorado!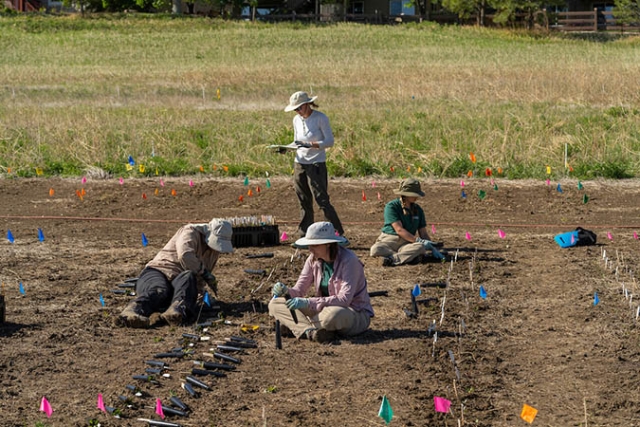 Staff planting seedlings at Chatfield Farms.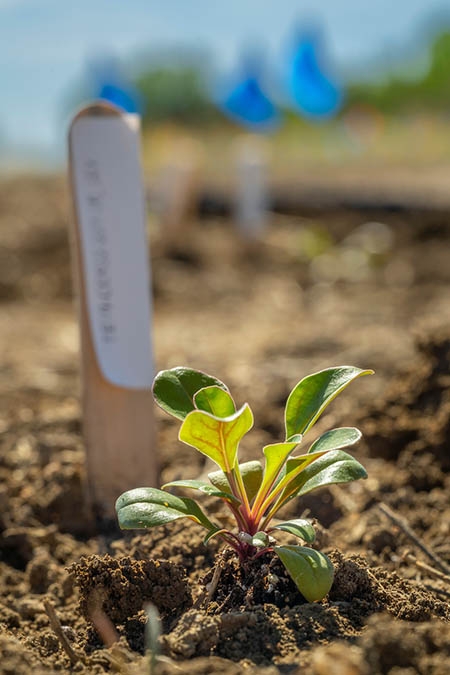 Penstemon virens seedling planted at Chatfield Farms.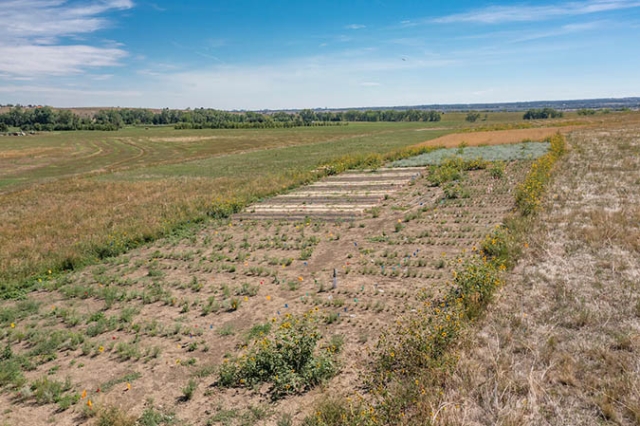 Aerial view of four species planted in a common garden experiment at Chatfield Farms. Clockwise from bottom left: Ericameria nauseosa, Penstemon virens, Artimesia frigida and Bouteloua gracilis.
This article was contributed by grad student Megan Clark.