Rental Venue Spotlight: Annuals Garden and Pavilion
August 15, 2019
Special Events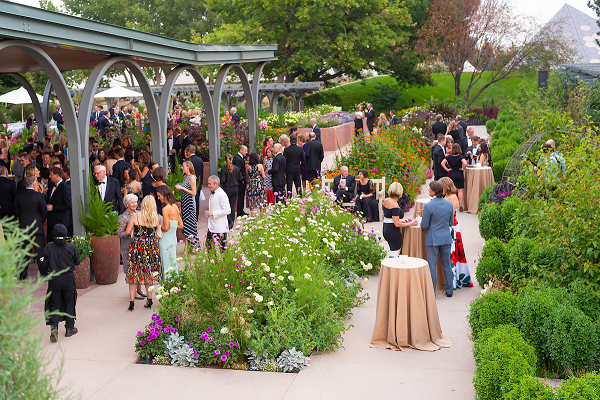 Every one of the rental sites at our York Street location offers beautiful and unique elements that form the backdrops for hundreds of private events each year. In general, certain kinds of events tend to inhabit certain venues: the Woodland Mosaic solarium is suited to small gatherings in the warmer months, Mitchell Hall is an ideal space for evening receptions year-round, and the UMB Bank Amphitheater is a perfect location for large gatherings at the peak of summer. However, since it's grand opening in July 2016, the Annuals Garden and Pavilion has become one of our most popular sites for rentals of all kinds.
Positioned at the heart of the Gardens, the Annuals Garden and Pavilion showcases some of the most spectacular blossoms at York Street. Each spring, the long, rectangular beds erupt with thousands of brightly-colored tulips, hyacinths and other spring-blooming bulbs. In the summer and fall, the garden transforms to feature North American annuals at their finest, expertly planted by our horticulturists to create breathtaking displays of vibrant blooms and lush foliage. With nearly a dozen separate garden beds, this space completely immerses your event guests in floral splendor.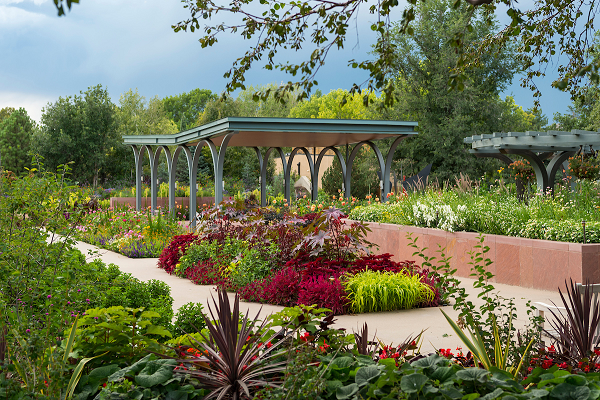 At the center of these stunning displays, the open-air pavilion is designed with high arches and a dramatic, sloping ceiling that offers shade to guests gathering on the flagstone pad beneath it. Equipped with soft lighting, the pavilion can be booked for daytime or evening events, and as a newer garden, there are plenty of easily accessible power outlets in the area. Depending on how the space is set up, the flagstone pad and the surrounding walkways can easily be used for standing receptions for up to 250, theater-style ceremonies for up to 200 or seated receptions for up to 120.
With the décor taken care of by the garden itself, simply add acoustic music, scrumptious food from one of our preferred caterers, and your friends, families or colleagues for an event you (and they!) are not soon to forget. Whether you are hosting a wedding, a corporate event, a non-profit fundraiser or gala, the Annuals Garden and Pavilion may just be the venue you are looking for.
Contact our Private Events team for more information at private.events@botanicgardens.org or 720-865-3551.