The Relevance of Biodiversity Data
April 6, 2022
Rick Levy
, Database Associate
The digital age gave us a new dimension that infiltrates nearly all aspects of our existence. But, as we navigate this decade, the bearing that nature holds on our everyday lives has reestablished itself as inescapably relevant. Atmospheric carbon pollution is altering every landscape, bringing fires, floods and mass displacement. A virus leap-frogged animal hosts into our global population, upending society faster than any of us could have previously considered possible. 
This narrative of doom tends to drown out the good when discussing our relationship with nature. Biodiversity is a source of healing and solace to so many. I hung a feeder outside my window to attract the company of chickadees and sparrows. Friends have adopted more house plants than they have room for. A forest hike near a creek or digging a garden has never felt so revitalizing. No matter how much we thought the digital realm had come to dominate our routines, community and economy, nature prevails as the ultimate force. Nevertheless, over the last half century ecologists and biologists have been uniting these domains, creating digital tools to garner understanding of life on Earth, delivering us to this moment when the fundamental unit of discovery, data, has become undeniably relevant to each of us.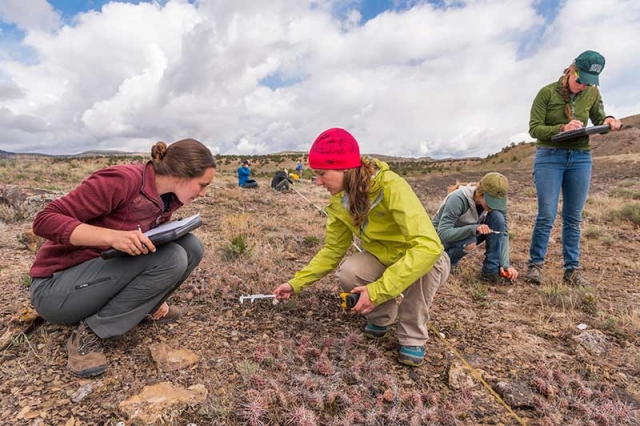 Denver Botanic Gardens scientists collect data from a population of rare cactus in western Colorado.
Gaining a better and more nuanced hold on how ecosystems function is crucial to solving some of the most important problems ahead of us. To do this, scientists across the globe are working to standardize, share and congregate data. The data comes from varied sources, such as specimens that have been sitting in museums for more than a hundred years, from the volunteer surveying ponds in a local open space just this morning, and yes, from botanic gardens. 
This data has been steadily making its way onto the internet, typically landing in a database like the Global Biodiversity Information Facility (GBIF). Here the data is free for anyone to download and use in their studies, contributing to statistical models that tease out patterns and processes. As of this article's date, there are 1,144 peer reviewed studies on the subject of climate change that utilize data made available on GBIF. These studies are impacting, right now, how we manage forests and grasslands to mitigate wildfire, how to restore agricultural land to improve food security, and how we slow the irreversible tragedy of extinction.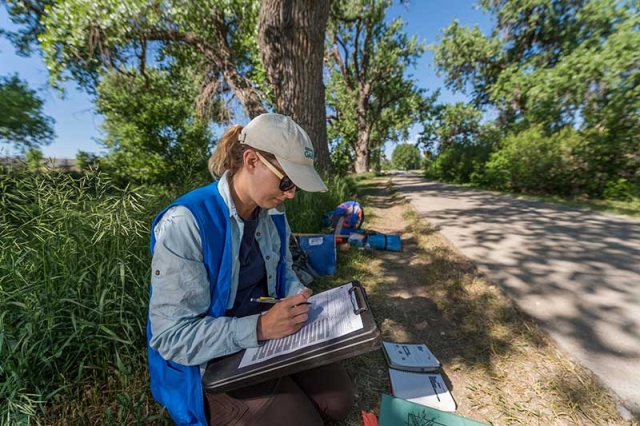 Denver Botanic Gardens ecologist records data during an ecological survey of an urban greenway in Denver.
Therefore, Denver Botanic Gardens Department of Research & Conservation continually works to collect plant and fungal specimens, bank and study seeds from rare species, and survey ecosystems throughout Colorado. As part of these endeavors, all data is made freely available so that its impact can stretch far beyond the Gardens' own research, becoming relevant in decisions and actions that will determine how we face the present.