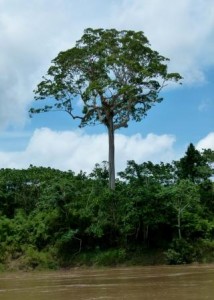 For several folks in our group, today is the beginning of the second phase of our Peru Discovery adventure.  After seeing the country's desert coast and high Andean Mountains, we are off to the Amazon River basin of Southeastern Peru.
After a quick flight from Cusco to Puerto Maldonado, we hopped a short shuttle ride to our Amazon adventure headquarters where we downsized our luggage for our trip up the Tambopata River and into the jungle.  During our ninety minute boat ride, we enjoyed an al-fresco lunch of fried rice, chicken and a delicious salty cheese all served wrapped in a banana leaf.  Our utensils and napkins as well as all the food containers were compostable which meant our entire meal created no trash.  Next time you get take-out food, take a moment to analyze just how much trash is created from that one meal and how many millions of people are doing the same thing every day.  Earth Day is always a good time to recommit to Reduce, Reuse and Recycle.
Our destination for this leg of our trip is Posada Amazonas, a jungle lodge operated as a partnership with the local community of Infierno.  Their goal is to develop a profitable, responsible ecotourism experience while directly involving the local people.  The lodge and its activities create jobs and provide income to the 170 plus families living in the Infierno territory.
After meeting our guide Yuri and checking into our rooms we immediately set out on a hike to an observation tower for an over-view of the jungle.  At nearly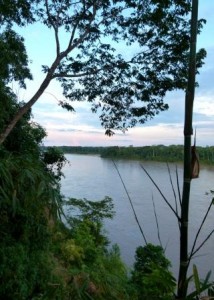 120 feet in the air, you get a spectacular view and a new appreciation for the vastness of the Amazon basin.  As far as the eye can see in any direction, there are trees, water and more trees.  The snow-capped Andes Mountains, the source of all the river water, can be seen far in the distance.  We spotted several bird species from the tower and while on our hike, we saw incredible plant and insect diversity and heard the sounds of all the other wildlife (especially monkeys) that were more reluctant to be seen.  We have an early wake up call in the morning so after another tasty dinner, we turned in early.  With limited electricity there isn't much need to stay up late and besides, hiking in the mud can be very tiring.
This morning we head to an oxbow lake, a small swampy lake created when a hair-pin turn in the river becomes cut off from the main current.  It was raining most of the morning, but that didn't stop us from seeing caiman and several species of birds and the almost comical looking long-nosed bat.  We also got to go fishing for piranha – catch and release of course.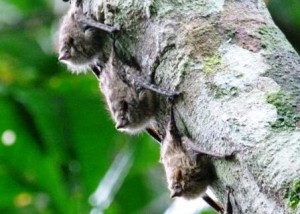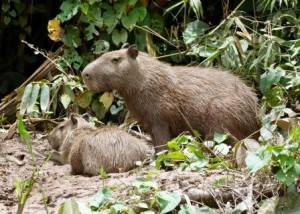 We hiked back to our boat and continued another 4 ½ hours upriver to the Tambopata Research Center for an even more secluded jungle experience.  During the boat ride, we saw numerous capybara, caiman, turtles, birds and monkeys.  We had an especially good opportunity to observe a group of Red Howler monkeys clambering through bamboo growing along the river's edge.  Our boat driver expertly held our boat close to shore directly in front of the monkeys, all while fighting a mighty river current.
After settling into our rooms, we headed off on another hike, this time to a cliff overlooking the river.  Again, we saw numerous plants, insects and birds and Yuri even managed to coax a huge Tarantula from its hiding place for all of us to see.  Yuri is proving to be an excellent guide and we both enjoy comparing notes on plants we observed during our hikes, both of us learning from the others expertise.
We relaxed around the lodge, enjoyed another delicious meal and again turned in early.  If the weather cooperates, tomorrow we hope to enjoy an experience that few people have the opportunity to witness - the descent of hundreds of parrots on a favored clay-lick.  We are keeping our fingers crossed.