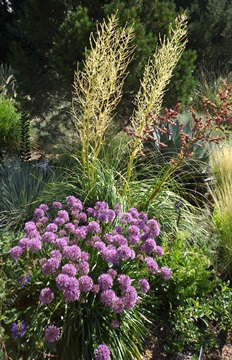 Allium 'Millenium'
Diane Reavis, one of our long time Plant Select committee members, observed that "we don't do a lot with the summer Alliums at Denver Botanic Gardens" as the committee strolled through the Gardens the other day. That got me thinking: I used to grow lots of Allium ramosum in the Rock Alpine Garden, and I know there are some wonderful forms of Allium cepa that bloom right about now--but with the notable exception of this spectacular clump of Allium 'Millenium' in the middle of the Water-Smart garden, we really don't have very many right now. Since this has been an area of great hybridization in Europe and the East, I have a hunch our staff will incorporate far more in coming years. You can probably guess what year Mark McDonough--who hybridized this showy beast--introduced it in? It has Allium glaucum ancestry, and probably some A. ramosum as well. I love the way it contrasts with the Devil's Shoestrings behind it (Nolina lindheimeri).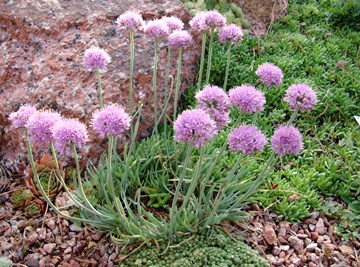 Allium senescens v. glaucum
Here is one of the parents growing in my private garden: it was taken a few years ago this is only now starting to bud up and won't be in full bloom for several weeks. These form dense tufts of swirly foliage that look like a vortex--decorative in its own right. Thrives in almost any sunny, well drained spot--I've even had it winter over in containers!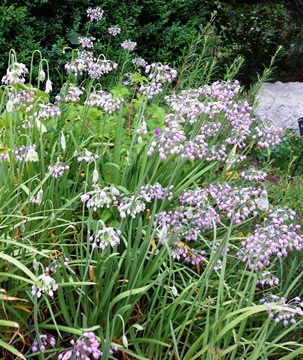 Allium cernuum
One of the best late onions, however, is our native nodding onion, which you might encounter almost anywhere in our mountains below treeline. In fact, it grows pretty much across the United States from coast to coast. It is enormously variable in habit, size and flower color. It's worth trying this from various populations--you will find quite a bit of variation. This one was photographed in the Rock Alpine Garden.