New Orangery Display
April 26, 2023
Julia Pearson
, Horticulturist
The Orangery at Denver Botanic Gardens was designed with a nod to the Orangerie at Versailles in Paris, with wooden planter boxes and rows of cypress and citrus trees. Orangeries originally existed as a place to house imported orange trees and other exotic plants and protect them from harsh weather conditions. Over time, many orangeries at estates across Europe were converted into entertaining spaces, or extensions of the home. This was due to improvements in transportation and availability of imported fruits. As our Orangery is used for so many social events, we thought we would give ours a little update, too. This week, we are adding elements of Victorian parlor décor to this garden.
Victorian parlors were used to entertain guests and show off plants from around the world. They were often decorated with ornate planters, Wardian cases, "parlor palms" and ferns. Some of these elements are included in the new scheme.
We are installing new plantings, with a focus on palms and ferns, with some seasonal flowers. The citrus will, of course, remain.
We are adding urns, plant stands and some furnishings that we sourced at local antique shops. Most of the original planter boxes remain in place.
Four arches were specially built to span across the ceiling and trailing vines will grow up them.
Visit the Orangery yourself and let us know what you think!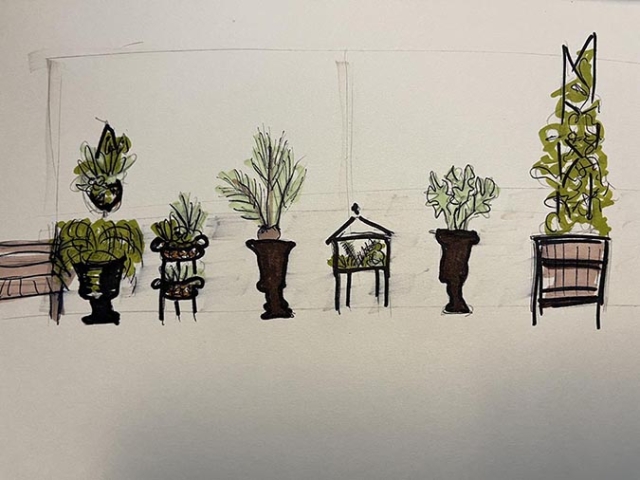 Collection of planters against the greenhouse windows, facing north in the Orangery. Design by Julia Pearson.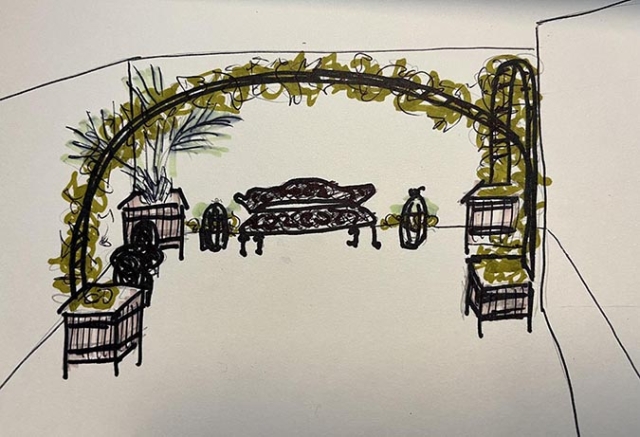 Cast iron garden furniture with arches. Southeast corner of Orangery. Design by Julia Pearson.