Music at the Gardens: 2 Music Series, 1 Location
March 9, 2022
Special Events
For many people in the metro area, summer at the Gardens has long been synonymous with the Summer Concert Series. World-class performers entertained throngs of fans in the UMB Bank Amphitheater under summer skies, and the botanical surroundings provided an unmatched setting.
Then came the pandemic. 
In the early days of the crisis, it still seemed that the concert series could proceed as planned. This couldn't possibly last until summer, right? Soon it became clear, to our venue and to thousands of others across the country, that summer music events would need to radically change.  
As we brainstormed creative ways to offer music to our visitors during the pandemic summer months, the concept of Evenings al Fresco was born. Rather than a central performance space where crowding was all too certain, we identified five locations around the Gardens where small ensembles could safely perform as visitors strolled by. The response was overwhelmingly positive and served as a huge morale boost for staff and visitors alike as we reeled from the shockwave that had turned the world upside-down.
Now, a full two years after the pandemic began, we are thrilled to offer both the Summer Concert Series and Evenings al Fresco so that visitors can choose from two distinct ways to enjoy music at the Gardens. The botanical surroundings for both series are the same, but the experiences for each are quite different.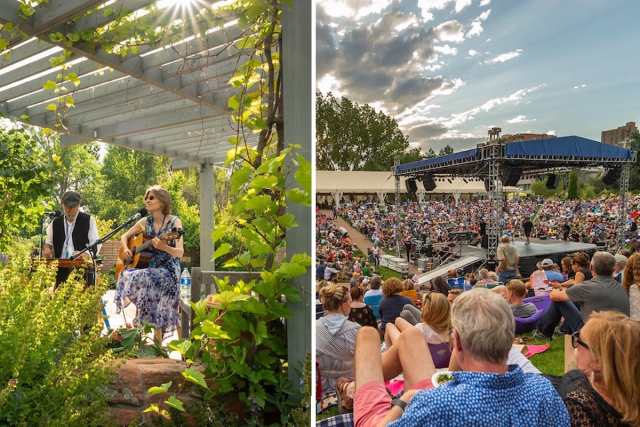 What is the same?
Both music series are presented in partnership with Swallow Hill Music.
Location – check out both series at our York Street location. 
Food is available for purchase, but alcohol is not. You may bring alcohol in its original container. 
What is different? 
Artists
Summer concerts features world-famous artists supported by opening acts. Check out the Summer Concert Series line-up. 
Evenings al Fresco celebrates talented local musicians. The line-up will be announced in late spring. 
Performance locations
At Summer Concert Series, artists perform on stage at the UMB Bank Amphitheater.
At Evenings al Fresco, small ensembles perform throughout the Gardens as visitors explore at their own pace.
Capacity
The audiences at summer concerts will be full capacity, concentrated in and around the UMB Bank Amphitheater.
Evenings al Fresco features a reduced capacity spread throughout the Gardens to allow for a more socially distanced experience.
Ticket sales
Tickets for the Summer Concert Series can be purchased starting March 14 by membership level at concerts.botanicgardens.org, by phone at 1-888-718-4253 or in person at Swallow Hill Music. Public tickets go on sale March 22. 
Evenings al Fresco tickets can be purchased through Denver Botanic Gardens' online catalog starting March 14 for members, March 22 for the public. 
Details, details, details!
No matter which type of musical experience you are looking for, Music at the Gardens promises to have something for everyone! Learn more about both series.